Saudi Focus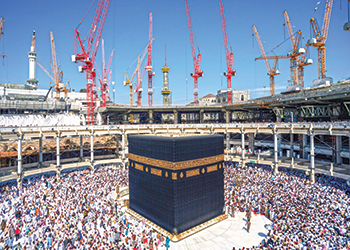 Work on Grand Mosque expected to resume
September 2017
Saudi Arabia is expected to restart work on the $26.6-billion expansion of the Grand Mosque in Makkah this month (September), nearly two years after work was stopped on the project, a Reuters report said.
Saudi Binladin Group, the main contractor stopped the work in the wake of a crane collapse at the site that killed 107 people in September 2015.
Work will resume after the annual Haj pilgrimage, and Saudi Binladin was due to pay outstanding salaries owed to staff involved in the project beginning last month, Reuters said quoting a notice that the company sent to banks.
Saudi Binladin and the Ministry of Finance were not immediately available to comment, the report said.
The plan to restart construction at the Grand Mosque is a fresh sign of the rehabilitation of Saudi Binladin, which was temporarily banned from winning new state contracts after the crane collapse.
Earlier reports said another stalled government project in which Saudi Binladin is involved, the $3.5-billion construction of the Abraj Kudai hotel complex in Makkah, will restart in the coming months.
The company also restarted work earlier this year on the new King Abdulaziz Airport in Jeddah, Reuters said.
More Stories