Saudi Focus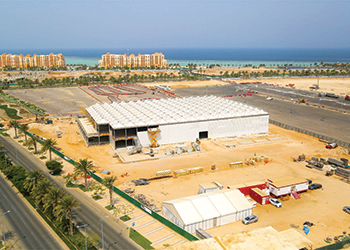 De Boer to instal exhibition hall
September 2017
De Boer Middle East has won the contract to build a high-specification semi-permanent exhibition hall at King Abdullah Economic City located close to Jeddah, a report said.
The King Abdullah Exhibition Centre, with 6,500 sq m of leasable space, will be one of the largest temporary structures to be built in the region, said the Saudi Gazette report.
The building, which has an expected life span of up to 10 years, can be dismantled and reused in a new location, when a permanent facility is built.
Specially insulated wall panels will be installed on the Delta Emperor structure to reduce air-conditioning requirements.
The structure, which has a 60 m x 90 m footprint, will house an exhibition and meeting space of more than 6,500 sq m.
The turnkey venue combines the latest temporary structure technology combined with traditional building techniques to deliver the look and feel of a permanent building. The venue is designed with a high-specification interior fit-out encompassing adaptable conference rooms and retractable exhibition hall divides.
More Stories