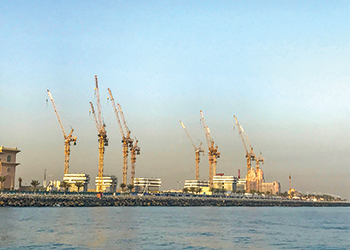 Potain power at massive Dubai resort
October 2017
A fleet of 10 Potain MR 418 tower cranes is helping construct the Royal Atlantis Resort and Residences, which is located on the crescent of The Palm Jumeirah island in Dubai, UAE.
Abu Dhabi-based NFT, Potain's business partner, has supplied the cranes on a rental contract to the joint venture of Belgium-based Besix and South Korea's SsangYong Engineering and Construction, building the resort.
The project marks the first time that MR 418 cranes have been used in the UAE.
The 43-storey Royal Atlantis Resort and Residences, which will reach a height of 193 m when completed, will include 795 rooms and 231 residences. It will have 65 outdoor pools in the residential section and a "sky pool" at a height of 100 m at the hotel.
Besix chose NFT to be the main supplier of tower cranes for the project. The MR 418s have been fully erected by NFT on fixing angles at heights ranging from 104 to 190 m free standing. As for Phase Two, the cranes will be braced with special anchorage bracing, measuring 16-m long for certain cranes, to the core of the building. The contractor has also placed six of its own cranes but these will only be used during Phase One as they are smaller. The jobsite also has two GTMR 400 supplied by NFT.
NFT delivered the cranes to the project in October 2016 and the MR 418s were assembled quickly. "The tower cranes are working 24 hours non-stop with double shifts and NFT has assigned a full-time technician on the job site to minimise breakdown time and optimise tower crane performance," says Bassem Kini, operations director at NFT.
NFT has also delivered an entire container filled with MR 418 spare parts to ensure the client has everything he needs on the jobsite without worrying about availability and delivery time, he says.
Christophe Simoncelli, Manitowoc's vice-president of tower crane sales, Asia and the Middle East, says NFT's support is crucial to ensuring a successful outcome on such a high-profile project, which is expected to last three years.
More Stories