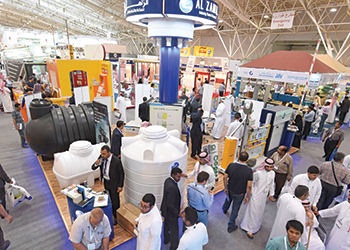 Opportunity knocks
October 2017
Local, regional and international players all come together under one roof at Saudi Arabia's largest construction exhibition to show off their very best products and services.
Saudi Build is back again this year to mark the 29th edition of this international exhibition for construction materials, building and environmental technology, offering insight into numerous opportunities for construction projects in Saudi Arabia, the Middle East's largest market.
More than 500 global and local exhibitors from 30 countries are taking part, including those from Canada, Britain, India and Denmark. Additionally there will be eight international pavilions representing Italy, Germany, China, Turkey, Egypt, Portugal, the UAE and Morocco.
Saudi Build 2017 is organised by Riyadh Exhibitions Company (REC) under the patronage of the Ministry of Municipal and Rural Affairs at the Riyadh International Convention and Exhibition Centre, Riyadh, Saudi Arabia from October 23 to 26.
It is kingdom's most significant event in construction is being held concurrently with Saudi Stone-Tech and Saudi Build – The PMV Series 2017.
"For over 35 years, Saudi Build has been Saudi Arabia's largest construction trade exhibition, attracting thousands of international manufacturers, exporters and businessmen, as well as tens of thousands of regional engineers, importers and industry professionals to connect and engage with the latest technology that the kingdom's largest sector has to offer," says Khalid Alamdar, director of sales and marketing at REC.
As vast construction projects continue to develop, especially in the social and transport infrastructure, the Saudi construction sector will witness a significant growth in the coming few years. In fact, the Saudi construction sector is currently valued at SR2,250 billion ($560 billion), with infrastructure projects alone amounting to SR1,312.25 billion ($350 billion). The current ongoing projects constitute 82.4 per cent of overall construction activities, reflecting the continued growth and development in the sector.
The industry's growth is underpinned by a number of factors, including massive transportation projects, development of airports and associated facilities, an investment of over SR112.5 billion in airport infrastructure by 2020, and SR675 billion in the development of the transportation infrastructure between 2015-2019. Additionally, Saudi Arabia's population is growing fast, is increasingly young and estimated to reach 35.7 million by 2020. Also under way is the construction of six smart cities by 2025 valued at SR412.5 billion, increasing related infrastructure construction activities
Saudi Arabia's GDP from construction increased to SR31.93 billion in Q3 2015 from SR31.66 billion in Q2 2015. The average GDP from construction was SR27.09 billion from 2010 until 2015, reaching an all-time high of SR31.93 billion in Q3 2015 and a record low of SR21.96 billion in Q4 2010.
The 20th international stone and stone technology exhibition will gather a powerful mix of top distributors, suppliers, manufacturers, agents and professionals from across Saudi Arabia, the region and the world. It will constitute the most comprehensive gathering of key players under one roof.
Meanwhile in its eighth year, the Saudi Build – The PMV Series is an exhibition for construction equipment, plant, machinery and vehicles. It attracts the biggest and the most prominent local and international companies along with a large number of visitors, including high level officials and decision-makers representing both private and public sectors.
Last year, Saudi Build covered a gross exhibition area of 23,000 sq m at the Riyadh International Convention and Exhibition Centre, hosting 753 exhibitors – 218 of whom were local and 535 international. Some 18,764 visitors came to the event. There were national and country pavilions from 13 countries including while 23 other countries were also represented.
More Stories