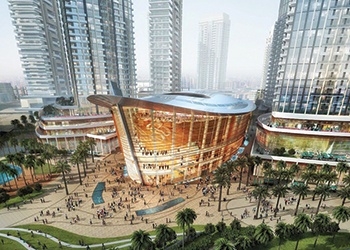 Geze shows off smart technology
October 2017
Geze showcased its latest building automation systems for 'smart' technology and new interface modules that utilise BACnet and KNX – the globally renowned communication standards in home and building system technology – at a trade fair in Dubai, UAE, last month.
These solutions aim to improve the comfort, security and energy efficiency of work and home environments.
They were displayed at the Window, Doors and Facades trade show, which ran from September 25 to 27.
Charles Constantin, managing director of Geze Middle East, says: "Our smart building solutions aim to provide automated and networked building infrastructure solutions to make modern buildings more comfortable, secure and ultimately reduce energy consumption."
At the event, the Geze Cockpit building automation system was showcased for the first time.
Constantin says this innovative control unit allows networking of automated system components from the fields of door, window and safety technology from Geze and other manufacturers, monitors them centrally and can be controlled even via smartphone or tablet.
"Via the IO 420 interface module, Geze products can be integrated into network solutions with BACnet, and be networked with each other via BACnet MS/TP," he explains.
Also on display was a unique complete solution of a multifunctional, centrally controlled swing door system with an automated and a manual door leaf.
"With the robust, award-winning Powerturn drive and tried-and-trusted Geze door closer technology, the door system combines accessible door control, emergency exit protection, fire protection, increased burglar resistance, complete protection when passing the door and remote monitoring," says Constantin.
The universal drive design across both door leaves is a visual highlight, he says.
For controlled, natural ventilation, Geze presented facade windows with IQ window drives. Via the IQ box KNX interface module, windows can be connected as direct bus users in a KNX building system and be monitored and managed 'smartly'. These automated, networked windows create facades that adapt to the climate.
He says automatic windows can be monitored and operated intelligently via IQ box KNX interface module, integrated into the KNX communication standard. The module has won the Silver Protector Award. Automatic windows are an ideal solution for automatic natural night-time back cooling.
Among the key projects Geza has worked on is the Dubai Opera House, where it specified specialised facades, doors and windows solutions.
More Stories