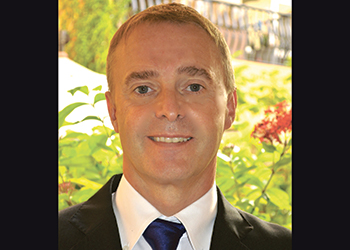 Cabling, connectivity hold the key
October 2017
Proper cabling and connectivity is crucial to a data network's smooth functioning, writes DAVID HUGHES, director, field application engineering, MEA, CommScope*.
With the vast amount of data that is being generated, processed, analysed and stored, the first point of focus is often on the technological advancements in software and hardware.
Often overlooked is the infrastructure platform at the physical layer, namely the cabling and connectivity that carries this information. Although a relatively small part of the overall cost of the network, its strategic importance should not be underestimated.
The digital age is driving sophisticated consumer and business demands, which organisations need to address quickly in order to gain a competitive advantage. A well-thought-out infrastructure strategy is fundamental to driving organisational resilience and ensuring a business can adapt and evolve to capture the benefits of this technological evolution. Ensuring you have a robust design, along with the correct cabling and connectivity, will help to ensure a network can scale and adapt to future applications and technologies in a cost-effective manner.
Cabling rework due to an inferior infrastructure is costly, disruptive and reduces time-to-market. In a dynamic world, only the agile and innovative survive, so this aspect is not only significant, but should form a part of an organisation's business strategy.
As application standards, such those developed by the IEEE, continue to advance, the cable and connectivity community also needs to evolve to keep pace. This area is represented by additional standards bodies such as the TIA (Telecommunications Industry Association) and ISO (International Organization for Standardization), who must align with these emerging applications to ensure development is harmonised at the physical layer.
Technology is having a profound impact on the way we design and implement cable and connectivity solutions. Whether it is a city, building or data centre, optical fibre and copper technology solutions are integral to operational resilience. Systems must be designed for current and future applications. Compromising on applications to fit a sub-standard infrastructure limits growth and an organisation's competitive advantage.
In the data centre, we are seeing a fibre-optic-rich environment that must be scalable to support high bandwidth and low latency requirements. A scalable high-speed migration strategy is imperative, especially as new applications that require higher bandwidth and attenuation-sensitive characteristics are introduced. Furthermore, this is both essential for an agile go-to-market strategy and to protect the investment into the future,
The Internet of Things (IoT) and Power over Ethernet (PoE) are also changing the landscape for building cabling. With the leading research and advisory company Gartner predicting the number of connected devices to exceed 20 billion by 2020, it is prudent to assume that a large amount of these will be located within the building space. The ability to remotely power these devices across the SCS (structured cabling solutions) along with data, has a significant benefit to the building owner or operator. In conjunction with IoT, PoE has also been introduced into smart lighting systems, as well as other building management and analytical platforms, to both improve cost efficiency and the occupant experience.
Significantly, due to the higher bandwidth requirements for wired and wireless endpoints, Category 6A high-performance copper and OM4 fibre-optic backhaul cables are fast becoming an essential factor, as organisations prepare their infrastructure to be future-ready. Additionally, Category 6A cabling has several distinct advantages for PoE deployment, due to its superior construction. This is particularly relevant as the standards and applications develop and maximise the power injected across the system.
Conclusion
In today's dynamic and progressive world, the communications connectivity community has never been more relevant. Often seen as an afterthought, it is integral to the success of an organisation as it strives to conserve costs, whilst still gaining a competitive edge and improving the end-user experience. However, it is not just about the cables and connectivity. Technology is driving complexity, so partnering with an organisation like CommScope can help simplify the journey and ensure your infrastructure is both robust and scalable to meet the demands. Remember the only constant is change, so be change ready.
* CommScope is a leading vendor within the communications connectivity community and has been instrumental in driving innovation in this area. CommScope has a presence on all major standards bodies – a factor which is critical when designing and advising end-users on next-generation physical layer systems.
More Stories