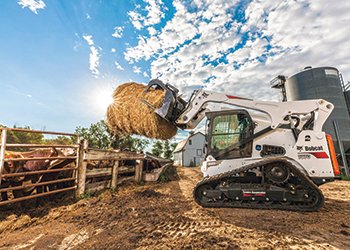 Bobcat launches new compact tracked loader
October 2017
Bobcat has launched a new version of its top-of-the-range T870 compact tracked loader featuring a new torsion suspension undercarriage, replacing the previous T870 model with a roller suspension system.
Introducing a completely new undercarriage design to Bobcat compact tracked loaders, the torsion suspension undercarriage features torsion axles that dampen vibration, combining the comfort of roller suspension and the stability of a solid mount undercarriage with other new features to provide a tracked loader that outperforms all other machines on the market.
According to the company's spokesman, the new T870 torsion suspension machine offers 10 per cent more lift capacity than the previous roller suspension model.
It provides a more comfortable and relaxed environment in the cab − achieving a new level of comfort without sacrificing work performance. The torsion suspension improves not only ride quality, it also absorbs stresses and vibrations encountered on the job. The result is reduced wear and tear, and improved component life, throughout the machine.
The 5-link torsion suspension undercarriage minimises rocking when lifting a load high or when performing grading tasks. The unique fifth link acts like an independent suspension, increasing ride comfort and greatly reducing the rocking effect that is typically associated with torsion suspensions.
Improved comfort and ride quality also result from the use of dual-flange front idlers that ride on the rubber track's roller way. They are also wider, which maximises their contact with the track for a smoother ride, further improving comfort and ride quality as well as increasing uptime.
Furthermore, auto track tensioning increases uptime by automatically ensuring the proper track tension. The durable design of the new T870 model further improves uptime performance, with forged steel idlers guiding and supporting the track around the ends of the undercarriage.
The T870 loader is intended to run the most powerful attachments from Bobcat such as wheelsaws to cut trenches for cable/pipe laying (including the WS32 wheelsaw providing an 80 cm dig depth) and the highly productive forestry cutter attachment. As well as work with these powerful attachments, the high productivity of the machine provides new solutions for other demanding applications such as shiptrimming, grading, lifting, planing, landscaping, trenching, rental, construction and demolition.
The new model is available with a wide range of standard and optional features and in a range of configurations to match emissions and specification requirements for all European, Middle East, Africa and Russia and CIS markets.
More Stories