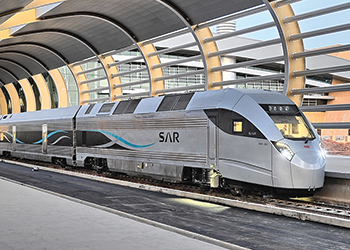 $2.6bn raiLway set to mark milestone
October 2017
Saudi Arabia will launch its longest passenger train service in December, marking the completion of the 2,750-km North-South Railway, built at a cost of $2.6 billion.
The Riyadh-Majmaah-Al Qassim passenger train – launched as a five-days-a-week service in February this year and made a daily service in April – will be extended north to Hail, Al Jouf and Qurayyat, starting December 24.
The 1,250-km journey from Riyadh to Qurayyat near the Jordanian border will take around eight hours, and there will also be an overnight train on the same route.
The six stations, each spread over an area of 137,217 sq m, have three floors: one for arrivals, another for departures and a third for baggage collection, the Saudi Railway Company (SAR) said.
The majority of the work has been completed including the construction of the support buildings along the length and breadth of the railway besides the main control and operation centre, 179 communication towers and signals, control systems, communication systems at stations and maintenance buildings, the Saudi Gazette reported.
The passenger service had its trial run between Riyadh and Majmaah in October last year.
The North-South Railway project was undertaken for SAR by a joint venture led by Systra and its subsidiary Canarail.
Spain's CAF supplied four day trains and two overnight trains for the service.
The day trains run at speeds of up to 200 kmph. Each has two power cars and nine coaches with 120 seats in business class, 322 in economy as well as a restaurant car.
The night trains have a maximum speed of 160 kmph and comprise two power cars and 13 coaches. Each train accommodates 42 passengers in business, 238 in economy, 92 berths in 24 compartments, a restaurant car and is also able to transport 16 vehicles.
The North South Railway also has general freight and bauxite/phosphate trains, both of which have been up and running for several years now.
More Stories