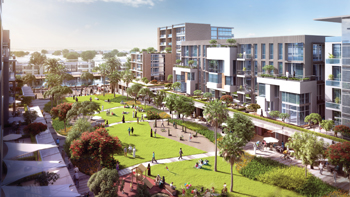 Azizi plans $6.8bn 'British' community
November 2017
Azizi Developments has announced plans to launch a new mega community project in the heart of Dubai at an investment of Dh25 billion ($6.8 billion).
The project – which is yet to be named – will have a distinctly British feel, with themes and elements influenced by contemporary British culture and way of living, said the UAE-based real estate developer.
Work on the project is scheduled to begin this month (November) and is due for completion by Expo 2020 Dubai, it stated.
The development will comprise residential, commercial and retail space, with 105 mid-rise and high-rise residential buildings boasting 30,000 apartments, said the Dubai group.
The announcement comes on the back of the developer's success at this year's Cityscape Global and the sell-out of Azizi Riviera phases One and Two canal-facing projects in Meydan One, it added.
Mirwais Azizi, the chairman of Azizi Group, said: "When we arrived in Dubai 20 years ago, I always had the desire to be part of this city's success story. The new project announcement comes as part of Azizi's commitment toward developing a city which has given us many opportunities, including secure investments and a business environment, as well as an excellent standard of living and education, and a world-class healthcare system."
The new project, he stated, will be located in central Dubai with a construction area of 33 million sq ft – twice the size of Azizi Riviera in Meydan One – and will include all facilities needed for its residents to enjoy a happy lifestyle.
"The development will include education facilities, retail outlets, hospitality, a shopping area and outdoor recreation spaces," he added.
Meanwhile, Azizi Developments said work is in full swing at its Dh12-billion ($3.26 billion) Azizi Riviera.
Inspired by the French Riviera, the waterfront project boasts 69 mid-rise residential buildings of 13,000 units of studio, one- and two-bedroom apartments, a mega integrated retail district and a four and a five-star hotel. The Emirati developer has signed up KSS Engineering and Construction, and Zahrat Al Safa Contracting as the contractors of Phase One, while Seidco has been awarded the contract for Phase Two. The combined project value of the two phases is Dh6 billion ($1.6 billion).
Work started in July this year and is progressing well with phases One and Two likely to be completed in the second half of 2018.
Azizi is also making rapid progress on the construction of Azizi Aura Residence in Downtown Jebel Ali. With site preparation complete and mobilisation under way, the developer is well on its way to complete the project by the fourth quarter of 2018.
More Stories