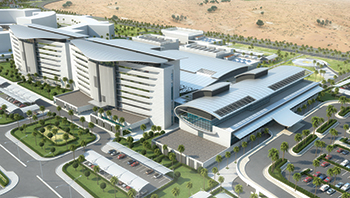 Work launched on Bahrain medical city
February 2018
The Arabian Gulf University has awarded the first of the contracts for the construction of the multimillion-dollar King Abdullah bin Abdulaziz Medical City, a multiple-phased development to come up on a one-million-sq-m area in Bahrain.
A mixed-use development, the project comprises academic and medical facilities, a research centre, on-site accommodation and other communal facilities to create a self-sustained campus.
Under the $260-million first phase, a 288-bed hospital supported by on-site staff housing and other communal facilities will be developed, followed by the setting up of medical clinics, medical services building, specialised research centres in the prevailing diseases in the GCC region, including cancer, diabetes and obesity in the next phase, reported the BNA.
The contracts were awarded to Hafeera Contracting Company and Partners Contracting Company, according to a Gulf Daily News report.
"This signing is the actual launch of construction work on the medical city project, as the project contractor has begun building the medical city on the site," stated Dr Khalid Abdul Rahman Al Ohaly, the president of AGU.
"Over 60 workshops have been held, attended by more than 100 experts to design the medical city, working closely with the National Health Regulatory Authority in order for the medical city to meet high standards," he noted.
"We are currently working side by side with the Supreme Council of Health to include the medical city under the health services covered by the health insurance of Bahrain, to provide medical services to all residents of the kingdom," he added.
Once operational, the medical city will boast 300 beds and a full range of outpatient clinics, in addition to 15 operating rooms and quality support medical services such as advanced laboratories and a pharmacy.
According to him, the three objectives of the project are: the education and training of GCC students of the College of Medicine in the University; providing facilities for the faculty at the College of Medicine of tje AGU; and also to establish centres for clinical research to address health issues prevalent in GCC such as diabetes, obesity, cancer and cardiovascular diseases.
More Stories