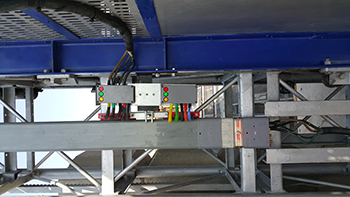 NFT equips fleet with electrical busbar
February 2018
NFT, a specialist in tower cranes, has replaced old-school cable ropes on its construction hoists with electrical busbar. This was a special order prepared by GJJ for NFT's Orbit hoists, and the first of its kind in the region.
"As a thought leader in the industry, NFT is continuously updating its fleet with the latest technology in the industry," said a company spokesman.
Electric busbar distributes power using copper or aluminium with proper enclosure and protections to prevent damages from exposure. The spokesman said busbar are replacing cables due to their convenience and high safety factor.
Some of the advantages electrical busbar have over cables, include more safety as cables are no longer affected by wind since they are now placed in a box; ergonomic design that minimise space; and more cost-efficiency as maintenance cost is reduced since with electrical busbar, the risk of cutting cables and having to replace them is now eliminated.
The electrical busbar also has better flexibility and can be added on all configurations, any height, double and single cabins. With a better cooling system, busbars can absorb heat generated from transmissions and distribution of electricity in the walls of the enclosure. There is also reduced loss of energy because busbars have lower resistance than cables. Additionally, they are easy to install and are lightweight.
The spokesman said NFT is selling its brand-new Orbit hoists with this busbar already installed on mast, with male and female connections.
"Being the exclusive dealer for Orbit, NFT has all the spare parts needed to ensure GJJ/Orbit hoists are working at all times. All pieces are genuine and straight from GJJ, Jing Long Engineering Machinery."
ISO-certified NFT was the first distributor of tower cranes and hoists in the GCC. It is the sole distributor for renowned brands such as Manitowoc Potain, GJJ/Orbit and Pega, and has been in the industry for over 35 years.
More Stories