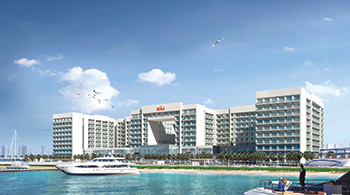 Contractor named for RIU resort hotel
February 2018
Master developer Nakheel and Spain's RIU Hotels & Resorts have signed a contract worth Dh385 million ($105 million) for the construction of a 800-room, joint venture beachfront resort and water park at Deira Islands in Dubai.
Set for delivery in 2019, the resort, which has a total investment value of Dh670 million, will be built by Binladin Contracting Group Dubai. The company, chosen from a shortlist of 10 bidders, will complete the construction work in two years.
Nakheel said with this contract, it has now awarded almost Dh8 billion worth of infrastructure and construction contracts at Deira Islands, with more on the way.
Under the joint venture, Nakheel and RIU Hotels & Resorts will deliver a new hospitality concept for Dubai, offering mid-scale, family-orientated, all-inclusive beachfront accommodation. The resort, RIU's first in the Middle East, will be one of Dubai's biggest in terms of hotel rooms.
On the new contract, Nakheel chairman, Ali Rashid Lootah, said: "Today marks a key milestone for Nakheel Hospitality, Deira Islands and Dubai. Our first international joint venture will bring a new dimension to Dubai's hospitality offering by providing a new concept in accommodation and attracting a new market segment to the emirate.
"The RIU resort at Deira Islands is a shining example of our commitment to delivering a diverse range of tourism-related projects that will help the government achieve its 2020 tourism targets, and I look forward to seeing this exciting resort come to fruition."
Located on a prime beachfront plot at Nakheel's new, 15.3-sq-km Deira Islands coastal city, the resort features seven food and beverage outlets, three swimming pools, a fitness complex, children's club and water park.
Nearby is Deira Central, Nakheel's mixed-use community with the upcoming Deira Mall as its centrepiece. Deira Islands Night Souk is also within easy reach.
Joan Trian, RIU's financial director, said: "Today we are a step closer to the opening of our first hotel in Dubai. We are sure that our loyal clients will want to explore the new offerings of the city with us, and we look forward to attracting new customers to our joint venture hotel, too."
"Nakheel has proven to be the best partner for our entry into the Middle East market, and we hope it is the first of other projects to come. In fact, this is a great step forward in our long-term expansion strategy in the Middle East and South East Asia," noted Trian.
More Stories