Regional News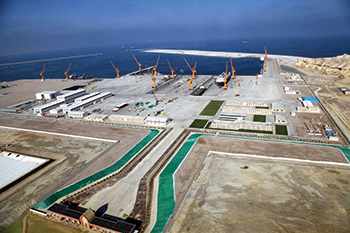 Sezad awards $125m infrastructure deals
March 2018
Oman's Special Economic Zone Authority at Duqm (Sezad) has signed two agreements worth a total of RO48.4 million ($125.5 million) for the construction of a service corridor for Duqm Refinery products and two roads at Duqm Port.
Sezad signed an agreement for the construction of the two routes (roads One and Five) in the Special Economic Zone at Duqm with the cost estimated at RO38.8 million. The second agreement involves undertaking the detailed design works and construction of the service road from Duqm Refinery to the bulk liquid products dock with a total cost of RO9.6 million.
The first project was awarded to Khalid bin Ahmed and Sons Company and is expected to be completed within 27 months from the date of award while the other project was assigned to Qurum Projects and Maintenance Company in collaboration with Patel Company and is expected to be completed within a period of 548 days.
More Stories