UAE Focus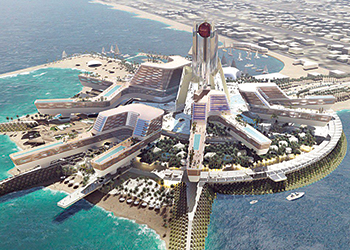 MGM to operate new beach resort
April 2017
Dubai-based wasl Hospitality and Leisure is to build a 26-acre premier destination resort in the UAE emirate and has selected MGM Hospitality to advise and manage the development.
The prime beachfront development, which will feature an MGM Hotel, MGM Residences and a Bellagio Hotel, will mark the debut of the iconic MGM and Bellagio brand names in the Middle East region.
wasl Hospitality and Leisure is a part of real estate development firm wasl Asset Management Group.
As part of the 2 million-sq-ft development, more than a half-million sq ft will feature a dazzling theatre, an exciting mix of culinary venues ranging from gourmet to casual dining, specialty retail shops, traditional and interactive museums, a sprawling beach club and thrilling adventure zones for both adults and children.
The new property will include 1,000 rooms and 10 villas and will occupy the longest stretch of waterfront ever developed in Dubai, serving as the "anchor" of the expansive beach.
More Stories