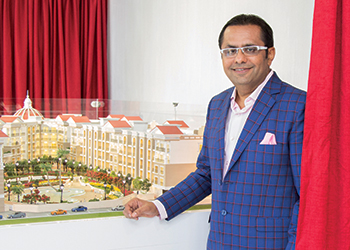 In brief
April 2017
Danube launches new project
Danube Properties has launched Resortz in Dubai's Arjaan neighbourhood. The Dh300-million ($81.6 million) project offers 419 apartments, ranging from studio to three-bedroom apartments and retail units.
The property boasts beautifully landscaped areas, a resort-style swimming pool and a central dome, which resembles the Duomo in Florence. Resortz offers resort-style living, with floor plans created to optimise space, as well as amenities such as a health club, squash court, barbecue deck, jogging track and a multi-purpose room.
Al Barari launches villa sales
Al Barari has launched sales of The Nest, a luxury enclave comprising 55 four-bedroom villas in a lush and environment-friendly development located in Nad Al Sheba in Dubai.
The villas combine first-class community living with the natural environment to offer a unique lifestyle, ideally suited to families.
Each home comprises an outdoor shower, barbecue area and a swimming pool surrounded by landscaped lawns.
Aldar to open Reem Island canal
Aldar Properties is set to open one of its key amenities within its Shams development on Reem Island - a 2.4-km-long canal running through the heart of the community in Abu Dhabi.
Final testing and commissioning work is well under way ahead of its scheduled flooding early April.
The canalscape, featuring 450 trees, covers an area of 46,000 sq m, and the canal itself is crossed by 10 bridges. A total of 35 plots within Shams are positioned adjacent to the canal, ensuring that many residents will enjoy close proximity to it.
Talal Al Dhiyebi, the chief development officer at Aldar, said the canal will play an integral part of the community, as it runs through the heart of the development, and provides many areas for exercising and socialising.
Lead, TNI to build green homes
Lead Development and Project Management Consultants (Lead) and The National Investor (TNI) will build the first residential community of private 'green' villas and townhouses at Masdar City, Abu Dhabi's flagship sustainable urban development.
The project, which will also include apartments, will deliver 250,000 sq m of gross floor area (GFA). The freehold real estate development will accommodate around 5,000 residents when completed in 2022, and will be open to both UAE and foreign national investors.
Sales of freehold units launched
Select Group has launched sales of Jumeirah Living Marina Gate, the first freehold development in Dubai Marina under the Jumeirah Living brand.
Located in the heart of Dubai Marina, Jumeirah Living Marina Gate is the third and last tower within the luxury Marina Gate development.
The development will include 104 serviced apartments, 389 private residences and 15 villas.
Construction has already started on the development and enabling works are nearing completion. Jumeirah Living Marina Gate is expected to be completed in Q4, 2019.
More Stories