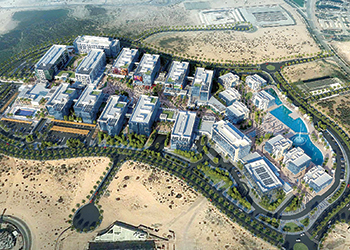 $354m Silicon Park launched
April 2017
Dubai Silicon Oasis Authority (DSOA) is setting up its first integrated smart city project, Silicon Park, at an estimated cost of Dh1.3 billion ($354 million).
The landmark development, to be built over a 150,000-sq-m area at Dubai Silicon Oasis (DSO), the integrated free zone technology park, will reinforce the green credentials of Dubai and the wider UAE.
DSOA chairman Sheikh Ahmed bin Saeed Al Maktoum laid the foundation stone for the new park in the presence of Dr Mohammed Alzarooni, vice chairman and chief executive of DSOA, and other officials.
Set for completion in the fourth quarter of 2018, Silicon Park will comprise 71,000 sq m of office space, 25,000 sq m of commercial space, 46,000 sq m of residential area and the 115-key business hotel Radisson Red Dubai Silicon Oasis.
In addition, it will feature restaurants, cafes, prayer rooms, a shopping centre and an underground parking space that can accommodate more than 2,500 cars.
As a smart community, Silicon Park will feature intelligent solutions from charging docks for smart devices on the streets to smart pop-up furniture and digital play tables, as well as optimally designed bus shelters, piazza shading and other public amenities.
Furthermore, its residential units will boast sophisticated remote-controlled systems that can regulate lighting, air-conditioning and electrical appliances in addition to controlling the movement of windows and curtains.
Silicon Park's sports amenities, such as health and fitness centres as well as running tracks and cycling trails, will allow residents to prioritise their health through enjoying a variety of sporting activities, and therefore live more holistic lives.
Once open, the project will offer a spectrum of office spaces and modern business facilities including meeting halls and a multi-purpose conference centre.
Silicon Park will leverage green building materials and control mechanisms as well as solar panels and double-glazed windows to reduce heat absorption. It will optimise the use of renewable energy resources and adopt measures to achieve efficiency in energy consumption. In line with this objective, it will feature smart lighting systems with motion sensor controls that respond to traffic and pedestrians.
Silicon Park will also include a control centre that collects and analyses data gathered through sensor devices. The collated information will enable seamless management of smart devices to ensure the delivery of best-in-class smart services to employees, residents and visitors.
Completely free of regular vehicles, Silicon Park will use electricity-powered alternatives as the primary mode of transportation. All residents and visitors owning electric vehicles will be able to access the charging stations set up across the premises. In addition, they will have the option to use smart rechargeable electric bikes as a means of conveyance.
More Stories