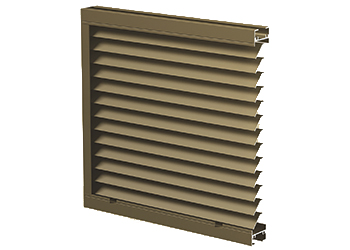 Greenheck unveils latest lines
July 2017
Greenheck of the US has launched new thinline stationary louvres which can be used for interior and exterior applications where a high free area for improved air flow is required or when narrow frame depth and horizontal sightlines are desired.
They are ideal for installation as exterior grilles on packaged terminal air-conditioning (PTAC) units and when integrated with curtain-walls and windows to complement the exterior aesthetics in new and renovated hotels, motels, condominiums, and other multifamily housing, says the global leader in manufacturing air movement, conditioning and control equipment.
Manufactured of heavy-gauge aluminium, the thinline louvres can be specified with a variety of custom-colour architectural finishes for durability and compatibility with adjacent components. The louvres are available in two models: ESU-153 with blades positioned at 30-degree angles and ESU-154 with blades positioned at 48-degree angles. The maximum single-section size of both the models is 96 by 48 inches and both are available in frameless configuration.
Meanwhile, Greenheck continues to expand its line of life safety dampers with the addition of SMD-401EF smoke damper. Featuring an extruded aluminium frame and airfoil blades, the new model is available in sizes up to 192 inches wide by 120 inches high with a wide range of actuators in modulating or two-position operation.
The SMD-401EF is UL 555S Class I leakage certified and rated for velocities up to 3,000 fpm and pressures up to 6 in wg for both horizontal and vertical installations.
Among other innovations, Greenheck has expanded its plenum fan line with Model APD, which features a direct drive fan with the wheel connected to the motor shaft. With no fan shaft bearings or belts to maintain, Model APD eliminates the cost and maintenance associated with traditional belt drive plenum fans. Ideal for an array of applications in air handler retrofits or when pressurising a plenum room, Model APD's compact size and smaller footprint make installations easy.
"When combined with a VFD (variable frequency drive), air volumes can easily be matched to changing building requirements or overcome increased pressures from dirty filters. Model APD offers an operating range up to 18,000 cfm and external static pressure up to 10 in. wg. Constructed from a formed and bolted galvanised steel frame with a welded and coated seven-bladed, backward-curved steel wheel, Model APD is an excellent option as a stand-alone single fan or in parallel fan array applications," the spokesman says.
Greenheck dampers bring the same quality engineering and manufacturing that has earned the company its position as an industry leader, says a company spokesman, adding it offers the most UL certified dampers and the largest selection of AMCA (Air Movement and Control Association)-licensed dampers in the industry.
Greenheck has seven manufacturing facilities in the US and one each in Mexico and India.
More Stories