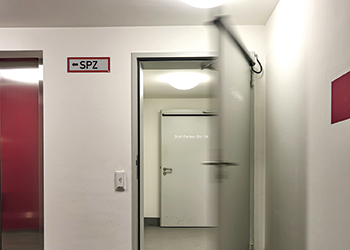 Hormann launches quiet doors
July 2017
Hormann has launched automatic hinged doors that offer quiet operations, and hence are particularly suitable for hospitals and offices.
The doors employ the HDO 200 operator with a sensor strip that is 25 per cent cheaper than those from similar operators. The doors also feature convenient opening, allowing for barrier-free passage. Speed control ensures a uniform opening and closing speed, while an integrated programme switch allows for custom settings.
Darius Khanloo, managing director at Hormann Middle East and Africa, says: "One can conveniently operate the automatic door via a button, radar movement detector or operating elements with BiSecur radio technology. It is quiet and efficient."
BiSecur radio technology can be operated via all Hormann hand transmitters, radio control elements, radio internal push buttons or BiSecur app.
"The door and operator are available as an all-in-one system. We supply the door and operator, including the required fitting material, from a single source. This simplifies and accelerates door fitting and commissioning," adds Khanloo.
Headquartered in Germany, the Hormann Group is a leading provider of doors and gates with more than 15 million produced since its inception in 1935. It develops its products for residential, commercial and industrial purposes in 27 specialised factories across Europe, North America and Asia. The family company has an annual turnover of more than €1 billion ($1.1 billion). It has 80 independent sales offices in more than 30 countries and hundreds of official distributors.
Hormann's wholly-owned subsidiary set up in Jebel Ali Free Zone, Dubai, in 2009 is responsible for the entire Middle East region.
More Stories