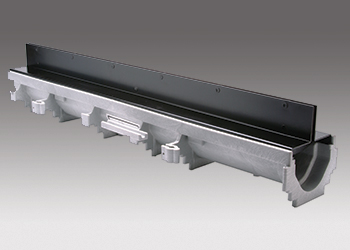 Zurn's range is built to perform
August 2017
Universal Building Materials Merchants Company (UBM), a leading player in Saudi Arabia's building materials segment, is offering a wide range of drainage systems that have extensive applications in landscaping.
The products are manufactured by the US-based Zurn, which develops innovative and performance-driven products focused on water conservation, control, safety and hygiene, and comfort. Headquartered in Milwaukee, Wisconsin, Zurn has its regional office for the Middle East based in the Dubai, UAE, and is headed by Sven Erlandsen, general manager, Zurn Middle East.
"Our diverse portfolio provides performance and reliability from the source of fresh water through to the end stages of wastewater treatment. For more than a century, Zurn has established itself as an innovator and leading manufacturer of highly engineered water product solutions," says Erlandsen.
Elaborating on some of Zurn's innovative products, a UBM spokesman says the US manufacturer's linear trench drain systems, Flo-Thru, are pre-engineered, modular systems designed for ease of installation, load-bearing strength, hydraulics, chemical resistance, and structural integrity.
"Zurn linear trench drain systems work well in landscaping applications in addition to manufacturing and industrial facilities, parking areas, swimming/sport facilities, tracks and athletic fields, high-volume roadside applications, airports, and food processing or pharmaceutical applications," he says.
Zurn's Perma-Trench drainage systems are a lightweight solution, made from corrosion-resistant high-density polyethylene (HDPE) material, for commercial kitchens, convenience stores, travel plazas, shopping malls and industrial parks.
To complement the systems, Zurn offers grates of several designs and types that fit many landscaping applications. The designs can be decorative and are available in different materials, such as bronze, cast iron and HDPE, to cater to various aesthetic requirements in line with the required flow rates and dimensional prerequisites, the spokesman says.
Meanwhile, reveal frame and grate systems from Zurn are used for cast-in-place concrete trench applications and are available in sizes of 6- and 12-inch-wide reveals with 120-inch-long sections, or 17-, 23- and 26-1/4-inch-wide reveals with 80-inch-long sections.
"Zurn's linear drainage systems, which are strong and durable in the toughest applications, offer several advantages over on-site, cast-in-place forming or precast polymer concrete systems. Their lightweight modular assemblies reduce labour and installation time, eliminate costly levelling/alignment hardware, and reduce costly freight charges," the spokesman says.
Furthermore, the modular sections are assembled together to produce straight, uniform drainage systems. Options such as dura-coated heavy-duty steel frames and grates, mechanical overlaps, rebar clips, and combination anchor tabs/levelling devices reduce labour during installation and allow for durable, flexible systems.
Meanwhile, the systems' built-in moulded slope produces superior flow characteristics while the smooth, non-porous internal surface further enhances flow.
Also, optional accessories and ease of modification make these the most versatile trench drainage systems available to satisfy any project requirements, he says.
Company technicians offer customers full support including CD specifications, technical assistance, jobsite installation assistance, and CAD layout drawings.
More Stories