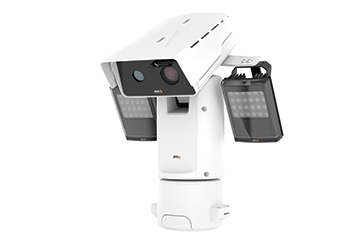 Axis puts large worksites within sight
August 2017
Axis Communications has launched a new generation of positioning cameras, giving operators faster and more accurate pan-and-tilt capabilities to monitor large-scale sites, perimeters and borders in real-time and to respond instantly to security alerts and incidents.
The new range enables the potential for 360-degree unobstructed field of view and at all times, and 135-degree field of view from ground to sky.
"The sites that require monitoring can be vast and giving a comprehensive field of view using static cameras can be unfeasible. Pan-and-tilt capabilities are, therefore, essential, and our new range of positioning cameras takes these and other capabilities to a new level of performance," says Michael Chen, the global product manager at Axis Communications.
Features of the new positioning cameras include high-speed and jerk-free PTZ (pan-tilt-zoom) movements with continuous pan and built-in electronic image stabilisation (EIS). They come with an SFP (small form-factor pluggable) slot for easy cable management. The new range includes:
• Axis Q8641-E and Q8642-E: These thermal positioning cameras enable long-range detection and immediate visual confirmation for the operator;
• Axis Q8685-E/-LE: These visual PTZ positioning cameras offer high-video quality with HDTV 1080p, 30x zoom with focus recall, and extreme light sensitivity.
• Axis Q8741-E and Q8742-E: The bispectral PTZ positioning cameras offer a combination of two live video streams, one from a thermal sensor and the other from a high-definition visual sensor.
Additionally, Axis Q8741-LE, Q8742-LE and Q8685-LE include long-life and long-range IR (infrared) for improved visibility during night time.
More Stories