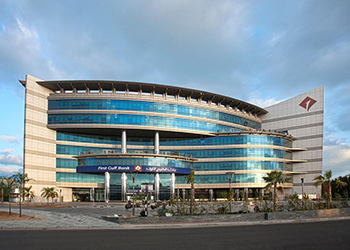 HQ banks on Durapipe system
August 2017
Pipes and fittings from Durapipe UK, a leading manufacturer of plastic pipework solutions, have been installed at the new 350,000-sq-ft headquarters of Abu Dhabi-based First Gulf Bank.
The eight-storey building comprises two basements, which house the plant room, a ground floor with reception and meeting rooms and seven office floors.
The development required a reliable pipe network to serve the air-conditioning system and the appointed mechanical and electrical engineering contractor, Al Rams Sanitary Contracting, tasked Abu Dhabi-based mechanical pipework experts Bin Moosa & Daly to source an appropriate system. As a result, Durapipe SuperFlo ABS pipe and fittings were selected as the most effective solution, says the UK group.
The system was installed in sizes of one- to six-inch diameters to transport water from the main storage tank in the plant room, located in the basement, to the chiller on the roof, before the chilled water is distributed to the air-conditioning units on each floor.
Specifically developed to convey chilled and boosted cold water, Durapipe SuperFlo ABS was the ideal solution for this application, not only due to its performance characteristics, but also its quick and easy jointing technique which reduces labour time and costs during the installation process, says a spokesman for the company.
Hasaan Moosa from Bin Moosa & Daly says: "We have used Durapipe SuperFlo ABS on previous projects so we knew it would be a reliable solution that met the performance criteria for this project. The system is also easy to use, which was of benefit to Al Rams Sanitary Contracting during the installation process."
Durapipe SuperFlo ABS is a durable material, which sees the pipework remain ductile in temperatures down to minus 40 deg C, while its limescale and corrosion-resistant properties significantly reduce maintenance requirements, says Durapipe.
"With its lightweight nature and easy solvent weld jointing technique reducing labour time and cost, Durapipe SuperFlo ABS offers a superior alternative to steel options," the Durapipe spokesman adds.
The company has seen its systems successfully installed for building services and industrial applications in projects worldwide for 60 years.
More Stories