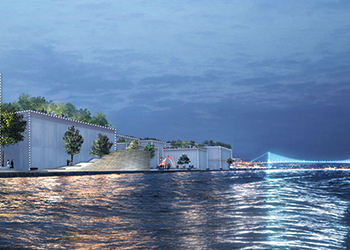 Cruise terminal goes undergound
August 2017
Work is under way to convert Istanbul's historic Galataport district into a vibrant and bustling tourist attraction that will also include the world's first subterranean cruise terminal.
The masterplan of the project has been prepared by design practice Studio Dror and architects Gensler.
The 110,000-sq-m Galataport is a strategic site on the Bosphorus in the heart of Istanbul, situated across from the old city and includes the Karaköy and Salipazari quays and boasts a cluster of historic landmarks and contemporary cultural icons, including the Istanbul Modern museum. Galataport connects Karakoy and Tophane, two Istanbul districts of historical value.
A significant portion of the site hosts an active cruise terminal and is closed off to the public due to security measures. Its 1.2-km-long boardwalk is restricted to maintenance, deliveries, and the 5,000 to 6,000 passengers that disembark each ship, depriving the city of breathtaking views. But this will now change after the cruise terminal goes underground.
Dror and Gensler's winning masterplan, which is now under construction, opens up this stretch of coastline for public use through a revolutionary cruise terminal – the world's first underground cruise operation.
Made possible by a hydraulic boardwalk and gangway system invented in collaboration with Miami-based interdisciplinary firm BEA, the entirety of the cruise operation's complex logistics takes place underground.
When a ship docks, the boardwalk hatch opens and transforms into a perimeter wall that secures the area, according to a spokesman for Dror, adding that a gangway rises to meet the ship doors and transports passengers to the underground terminal levels.
"This innovative system reduces the cruise operation's ground-level footprint to a 3.5-m-wide strip of land that's only in use when and where ships are docked, freeing over 60,000 sq m of accessible waterfront," he says.
Above ground, Dror and Gensler have opted to create a vehicle-free, pedestrian-only neighbourhood that harmonises with the city's existing urban fabric and encourages bustling street life through a vibrant mix of shops, restaurants, cultural attractions and offices.
Small, pixel-like buildings flank intimate streets and step down in scale towards the waterfront, creating opportunities for rooftop terraces with beautiful views at every level. Large, open plazas with monuments and elevated walkways weave the neighbourhood together, resulting in a multi-layered pedestrian experience.
"Through the collaboration of our partners, we've been able to relocate the cruise terminal in an unprecedented way and design a plan that respects the cultural texture of Istanbul," explains Dror Benshetrit, principal, Dror.
The developers behind the Galataport project are the Dogus Group of Turkey and Bilgili Holding, which have secured over $1.2 billion from a consortium of Turkish banks to build the project, with more funding to follow. Doguş CEO Husnu Akhan says the group will invest $1.5 billion in total in the project, which it aims to complete in Q4 2018.
Akhan adds: "One of the most beautiful squares in Istanbul that is home to the Tophane Clock Tower and Nusretiye Mosque will be renovated and reopened for the people of Istanbul. With Istanbul Modern and the ongoing construction of the Contemporary Art Museum of Mimar Sinan Fine Arts University, the area will become a space for arts and culture, and we will continue to support this transformation within Galataport. When the project is completed, the coastal strip that has not allowed public access for nearly 200 years will be turned into a promenade and opened to public use."
As part of the Galataport Project, restoration work will be carried out on the Merkez Rıhtım Han, built in 1912 on the Karakoy seaside, close to the ferry docks; Cinili Rıhtım Han, built in 1911; Nusretiye Saat Kulesi (Nusretiye Clock Tower), also known as Tophane Saat Kulesi, which was built in the second half of the 19th century.
Additionally, in an agreement signed with Dogus, the Peninsula Hotels will invest $345 million in partnership with Salipazari Port Management and Investments to build a hotel at Karakoy, its debut property in Turkey.
More Stories