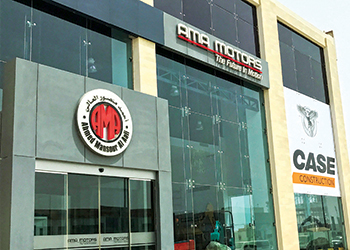 Case appoints new distributor for Bahrain
August 2017
Case Construction Equipment, a leading seller of a full line of construction equipment around the world, has appointed AMA Motors as its new official distributor for Bahrain.
As per the deal, AMA Motors will sell and support a full range of Case equipment from its 2,000-sq-m premises located in East Riffa.
In particular, it will offer the right products to meet the high demand for backhoe loaders and skid-steer loaders with its award-winning ranges, said Case.
Also in stock, will be the range topping Case motor grader, the 885B alongside its heavier wheeled loading shovels, the company added.
The AMA Motors facility boasts an ample showroom, a built-in display area where it can show the equipment on gravel and rocks, a well-equipped workshop and training facility. In addition, it operates two well-stocked parts shops to provide fast and efficient parts service.
The company said it is well placed to support Bahrain's booming construction sector.
The new distributor will support Case customers across the territory with the powerful back-up of the brand's organisation and resources, said a top official.
Franco Invernizzi, the regional director at Case Construction Equipment, said: "We are very pleased to extend our collaboration with AMA Motors. They will bring to our customers more than 60 years of experience and the personal care of a family-owned business together with the backing and resources of a global brand like Case."
It will complement the offering of Case products with a range of services, bringing to Bahrain construction businesses new and innovative ways to purchase and maintain its equipment, stated Invernizzi.
"For example, AMA will bring to market flexible equipment leasing options, designed to fix customers costs and deliver exceptional on site hassle-free performance," he noted.
More Stories