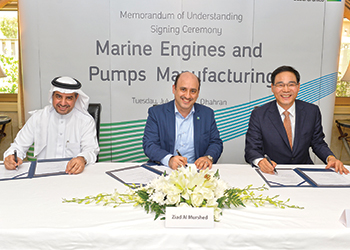 Saudi Aramco JV to set up engines, pumps factory
August 2017
State oil giant Saudi Aramco has announced plans to set up a comprehensive engine and pump business co-operation framework in a joint collaboration with Saudi Arabian Industrial Investments Company (Dussur) and Korea-based Hyundai Heavy Industries (HHI).
As per the deal, the Saudi Aramco joint venture (JV) will set up a factory at Ras Al Khair Economic City in the Eastern Province which will manufacture two-stroke and four-stroke engines, and marine pumps for vessels and power plants.
The company will also provide sales and after-sales services to customers across the Middle East and North Africa (Mena) region.
The new manufacturing facility will be co-located with the maritime yard at the King Salman International Complex for Maritime Industries and Services, where it will develop synergies with several complementary ventures, stated Ziad Murshed, the vice-president for new business development at Saudi Aramco, after signing the agreement with Rasheed Al Shubaili, the chief executive of Dussur and Kidon Change, the chief executive of the engine business at HHI.
The new joint ventre will manufacture four-stroke engines under HHI's HiMSEN brand licensing, serving as a regional production stronghold to support the growing demand for electricity in the Mena region as well as marine applications, he added.
According to him, the company will operate under a MAN-HHI sublicence for the manufacturing and servicing of two-stroke engines.
The trio has identified strong economic and strategic levers to the new joint venture. The facility is likely to start commercial operation by the end of 2019.
More Stories