Saudi Focus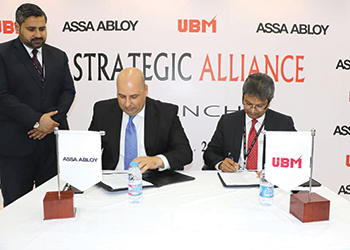 Saudi UBM inks strategic deal with Assa Abloy
August 2017
Saudi-based Universal Building Materials Merchants Company (UBM) has signed a strategic alliance agreement with Assa Abloy Security Solutions Middle East (Assa Abloy), a leading manufacturer of door opening solutions across the globe.
The move will help the two companies join forces that will go a long way in serving the construction sector of the kingdom, said Assa Abloy.This new relationship positions the two companies for significant growth in the kingdom
"UBM is excited to be associated with Assa Abloy, an industry leader that emphasises innovation, quality, and a sustainable approach to business," remarked Raghunath Sadasivam, the chairman of the UBM advisory board, after signing the agreement with Nassim Abu Yousef, the chief executive of Assa Abloy.
Assa Abloy boasts two manufacturing facilities in the region – UAE and Egypt – and is currently on an expansion course with "new acquisitions happening soon", he added.
More Stories