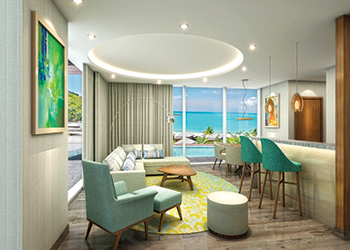 Palm resort fit-out complete
August 2017
Fourzone Décor, a UAE-based interior contracting and fit-out company, has completed the interior fit-out for The Retreat Palm Dubai MGallery by Sofitel.
Said to be the first holistic well-being resort in the Middle East, The Retreat Palm Dubai MGallery by Sofitel is a project of Ajman-based hospitality group R Holdings.
Fourzone Décor, a specialist in hospitality projects, said the architecture, design and services of the soon-to-open resort is inspired by the theme of 'serenity'.
The Emirati firm worked on the interior fit-out, including production and sourcing of furniture and soft furnishings, besides carrying out finishing work of the resort's 254 rooms and presidential suite.
Ajish Nambiar, the marketing director of Fourzone Décor, said: "We are almost at the handover stage of the property and are very proud of the successful completion of the project because The MGallery by Sofitel is the first retreat resort in the city."
"We faced a lot of challenges while finishing this project since it was a new theme and most of the materials used were one-of-a-kind and unique. But with our experience and expertise we were able to manage and finish the project ahead of schedule," he said.
Another challenge was the location of the project on The Palm, where the expectations were really high, he added.
More Stories