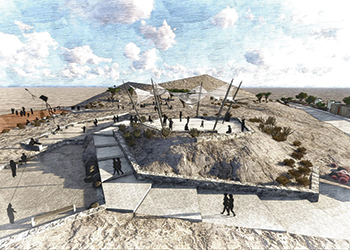 RAK to host UAE's highest viewing deck
August 2017
In line with its plans to be the region's premier destination for adventure tourism, Ras Al Khaimah is set to open a new observation deck close to the summit of Jebel Jais, providing adventure seekers and nature lovers breathtaking views and experience of the UAE's highest peak at 1,934 m above sea level.
The solar-powered facility, due to open in October 2017, will provide an ideal opportunity for nature lovers to enjoy fabulous views of sundown and sunrise while enjoying temperatures of around 10 deg C, said the Ras Al Khaimah Tourism Development Authority (RAKTDA).
Developed by RAKTDA, the Jebel Jais Observation Deck will include a series of viewing platforms to experience bird life and flora and fauna of the emirate's Al Hajar Mountain range.
"The facility is a step forward to increase tourist arrivals to the emirate as it will provide our local and international guests with unmatched experience to enjoy the breathtaking atmosphere and the Arabian spirit," said its CEO Haitham Matar.
The facility has been designed by Naga and is being built on RAKTDA's behalf by Botanical around 1,300 m above sea level, said the emirate's tourism development authority.
As part of Ras Al Khaimah's Vision 2019 tourism strategy, which aims to attract one million visitors by the end of next year, RAKTDA is investing in a range of adventure and wellness projects involving the emirate's natural assets, with a key focus on Jebel Jais and the surrounding area.
It has signed up as a sponsor of the UN World Tourism Organisation's International Year for Sustainable Tourism for Development, rendering sustainability a key component of the emirate's overall tourism proposition.
More Stories