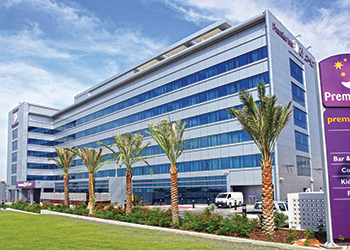 Waterscan sets new standards in recycling
September 2017
An innovative greywater recycling system, designed and installed for the Premier Inn at Abu Dhabi International Airport in the UAE is setting new standards in sustainability and making a positive impact on water scarcity in the Gulf state.
The Premier Inn was the first major hotel to be built as part of the airport's multi-billion-dollar redevelopment and expansion: A key element in the airport's drive to increase capacity to more than 40 million passengers each year.
Minimising the hotel's impact on the region's water was a major consideration in its construction, according to Matthew Lewis, property development director for Premier Inn Hotels in the Middle East.
He explains: "Reducing our impact on local water supplies and acting sustainably in the areas we operate is a key driver for Premier Inn Hotels and the Whitbread Group. With water scarcity being a significant issue in Abu Dhabi, we wanted to take the lead and become the first ever building and the first hotelier to recycle greywater in Abu Dhabi."
Waterscan, the UK's leading independent water consultancy and trusted partner to many organisations, worked with Premier Inn on the project.
The company's operations director Barry Millar says: "In a region which averages approximately only 120 mm rainfall per year and is one of the highest per capita water consumers in the world, saving water is of primary concern in Abu Dhabi so we were delighted to be involved in such a prestigious project. To be able to bring our latest greywater innovations to a region which suffers badly from water scarcity and to realise immediate and excellent water-saving results makes us extremely proud."
Put simply, Waterscan's greywater recycling system at Premier Inn ADIA works by taking water used for showering and bathing across the hotel's 300 rooms, treating it through an ultra-filtration membrane, and feeding it back into the hotel for use in flushing toilets and for irrigation.
Uniquely modular in construction, Waterscan systems can be built to exact specifications in line with site and client requirements. However, the system incorporates new high-specification features which offer tangible benefits to both the hotel and its patrons.
Highlighting some of these features, Millar says these include:
• Efficient low-energy components, such as a variable speed pump which reduces running costs by 70 per cent. The Waterscan system can produce 1 cu m of water using only 1.5 kW/h, saving on both energy consumption and cost;
• A triple-tiered redundancy back-up system to ensure total integrity of supply and consistency of performance with zero supply interruption through switching processes, to guarantee guest comfort at all times;
• Submerged membrane bioreactor filtration, which provides a fixed barrier to waterborne viruses and pathogens to alleviate health and safety risks;
• Noise reduction methods such as variable speed, load-sharing pumps, insulation and slow close valves to create one of the quietest systems on the market with zero impact on the guest experience;
• Optimised aeriation to stimulate a continual self-cleaning effect on the membrane surface, reducing maintenance requirements; and
• Built-in telemetry which transmits system data and live diagnostics for preventative maintenance and a Siemens smart interface delivering advanced system monitoring and usage data.
Waterscan's system is the first greywater recycling system to be approved by the Regulation and Supervision Bureau for the emirate of Abu Dhabi and the hotel has been shortlisted for several awards, he adds.
Millar says the results have been impressive, vastly reducing mains water consumption – a huge relief to local water supplies. Each month, an average of 735,000 litres (24 per cent) of mains water is saved – that equates to 60 litres per guest. Over the course of a year, this is the equivalent of 110,000 baths. Now 100 per cent of toilet flushing at the hotel uses recycled water.
"We have worked with Waterscan for a number of years, setting them ambitious targets to achieve our water sustainability goals, which they always find a way of achieving. Our new bespoke greywater recycling system incorporates innovative features to ensure system reliability and guarantees that the customer experience will not be affected. The system is producing great results, and we are now rolling it out across the Middle East, designing all our own new hotels in the region with this technology," Lewis says.
Millar adds: "It's disheartening that water re-use is yet to be widely adopted by commerce and industry because water scarcity now affects every continent. The UN predicts that, by 2025, 1.8 billion people will be living in countries or regions with absolute water scarcity, and two-thirds of the world's population could be living under water-stressed conditions.
"Whilst some early-to-market water re-use systems did not meet customer needs in terms of reliability and return on investment, Waterscan has worked to overcome these issues to create next-generation greywater recycling and rainwater harvesting systems that tick all the boxes."
More Stories