Regional News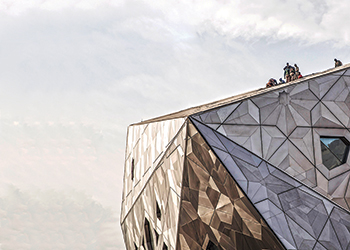 Cultural centre wins top award
September 2017
Kuwait's Sheikh Jaber Al Ahmed Cultural Centre (JACC) is to be bestowed with an Award of Merit at ENR's Global Best Projects Awards.
The complex will be honoured at a gala ceremony on October 23 at the Sheraton hotel at Times Square, New York.
Since its opening in November 2016, the complex has showcased performing arts, local performances and international acts. The facility is the centrepiece of a world-class theatre quarter set in spacious parkland.
Complex geometric shapes, inspired by Islamic architecture, form the richly textured outer skin of the four buildings that make up JACC. Luxurious world-class buildings below the outer skin exude character and a heightened sense of expectation, according to SSH, which was appointed as lead architecture and engineering designer on the complex.
The ENR Global Best Projects Awards focus on the challenges, risks and rewards of designing and constructing in other countries.
More Stories