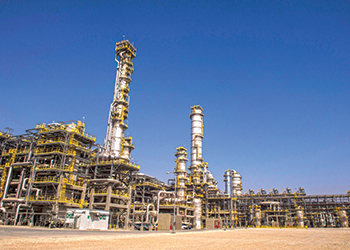 In brief
September 2017
Last of Sadara's 26 plants launched
Sadara Chemical Company (Sadara), a joint venture between Saudi Aramco and The Dow Chemical Company, last month celebrated the commissioning of the last of its 26 plants – an isocyanates section currently producing crude quantities of toluene diisocyanate (TDI) and other specialty chemicals.
A first for the Gulf region, the TDI section is mainly used in the production of flexible polyurethane foam for furniture, mattresses, cushioning and car seats. TDI also has a variety of industrial uses, such as coatings, adhesives, sealants, specialty foams and other products.
This followed the commissioning of the company's polyols plant – the first of its kind in the kingdom – in late July.
Koreans build largest tank roof
South Korea-based Worldbridge Industrial Company, a provider of dome roofs, has built what is claimed to be the world's largest dome roof for a desalinated water tank in Saudi Arabia.
The recently completed 120-m-diameter roof is one of the 16 mega-sized aluminium dome roofs ordered last year by Saudi Arabia's National Water Company for fresh water storage tanks under construction in Riyadh, said a report on the Pulse website. The 16 dome roofs are due for completion by the year-end, said chief executive Tak Koo-hyun.
Saudi Arabia plans to register the site in the Guinness World Records as the world's biggest desalinated water storage plant, the report added.
CB&I wins storage tanks deal
CB&I has announced it has been awarded a contract by Técnicas Reunidas for new product storage tanks that will be part of a clean fuels expansion project at Saudi Aramco's refinery in Ras Tanura.
CB&I's scope includes the engineering, procurement, fabrication and construction of nine flat bottom tanks, as well as modifications to numerous existing tanks, all of which were previously supplied by CB&I. In support of Saudi Aramco's In-Kingdom Total Value Add programme, CB&I will provide all fabrication and project management utilising its local facilities in Al Khobar.
More Stories