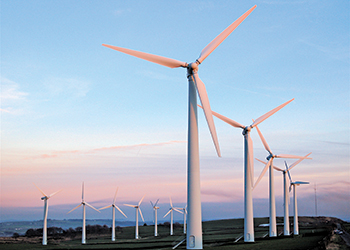 25 firms qualify for wind plant bids
October 2017
Saudi Arabia's Renewable Energy Project Development Office (Repdo) has qualified 25 firms to bid for the 400-MW Dumat Al Jandal wind project in the Al Jouf region.
The project is the first utility-scale wind power scheme within the National Renewable Energy Programme (NREP) of the Ministry of Energy, Industry and Mineral Resources.
Companies that have qualified for bidding include Masdar, Acwa Power, Akuo Energy, Acciona Energia Global, JGC Corporation, Elecnor, SNC-Lavalin Arabia, EDF Energies Nouvelles, Enel Green Power, Vestas Middle East, Enercon, GE, International Power, Korean Electric Power Corporation (Kepco), Marubeni Corporation, Mitsui & Co, Siemens Project Ventures, Sumitomo Corporation, and Toyota Tsusho Corporation (TTC).
The Request for Proposals (RFP) is now available for qualified bidders on the NREP's eProcurement portal, www.powersaudiarabia.com.sa.
The qualified companies will proceed to the RFP stage as either 'managing members' or 'technical members' – or both – based on their experience in delivering IPP projects of this scale.
Bidding for the project is set to close in January 2018.
Dumat Al Jandal is part of the round one of the NREP. It also comprises a 300-MW solar PV project in Sakaka, Al Jouf, for which the bid opening will take place this month (October 3) and winning bids will be announced on November 27.
The Dumat Al Jandal and Sakaka projects are both 100 per cent private IPP programmes, which will be backed by 20- and 25-year power purchase agreements respectively.
Minister of Energy, Industry and Mineral Resources Engineer Khalid Al Falih, said: "We are moving forward to diversify the kingdom's energy mix and to build a more sustainable and cleaner energy system that benefits Saudi Arabia and its citizens. Round two of the NREP will be launched before the end of this year, keeping us firmly on track to deliver 9.5 GW of renewable energy by 2023.
Technical criteria for round one NREP projects include a 30 per cent local content requirement. This requirement will increase in future rounds to stimulate the growth of a globally competitive and sustainable renewable energy supply chain in Saudi Arabia.
More Stories