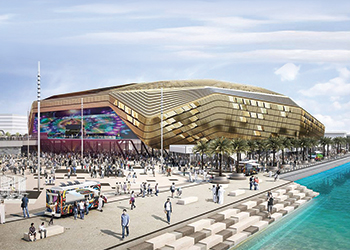 Infrastructure in focus
September 2017
While the construction market in Abu Dhabi is gloomy, industry experts forecast better things to come as the oil-rich emirate adjusts to the new normal of low oil prices.
Abu Dhabi's top 10 ongoing projects have a combined value of Dh134 billion ($37 billion) – all of which are expected to be completed within the next three years, according to a list provided by the government to Bloomberg.
Topping the list in terms of value is the $20 billion Barakah Nuclear Power Plant, the UAE's first nuclear plant, which is due to come online in 2020.
Another iconic project is the $3.5-billion Midfield Terminal Building at Abu Dhabi International Airport. The much-delayed project, which will double the airport's capacity to 30 million passengers a year, is now slated to open in early 2019.
Yet another showpiece development, which again has suffered considerable delays, is the $1.14-billion Louvre Abu Dhabi. The opening of the Jean Nouvel-designed building featuring an iconic white dome and surrounded by water, is now imminent.
Other impressive developments that made the Top Ten list include the $1.4 billion Mafraq-Ghuwaifat Highway project, the $909-million Zayed City infrastructure, two residential developments – the $1.5-billion Jabel Hafeet and $1.14-billion Ain Al Faida developments – near Al Ain, the $1.2-billion Al Ain New Hospital, the $1.1-billion Sheikh Shakhbout Medical City, and the $1.9-billion Strategic Tunnel Enhancement Programme.
Despite the health pipeline of projects that were initiated back in the boom days, the market sentiment is sombre as the oil-reliant emirate was hit hard when crude prices crashed over three years ago, which prompted a more cautious private investment environment and subsequently slower construction growth.
Looking ahead, substantial investment flows into Abu Dhabi's transport, energy and tourism will be the key drivers of growth in the construction market. Project activity will be supported by the UAE's prioritisation of infrastructure development as part of its economic diversification goals, according to BMI's latest Infrastructure Report.
The research analyst expects the construction market to register an average annual growth of 5.2 per cent in real terms over 2017-2026.
Abu Dhabi's focus on non-oil sectors as it moves away from reliance on hydrocarbons will see increased infrastructure spending and therefore an uptick in construction activity, BMI adds.
"Despite the emirate entering a structural slowdown, its fiscal position remains healthy and our country risk team believe spending will remain elevated," it says.
Power & Water
The UAE is investing heavily in its energy and utilities infrastructure sectors, to boost capacity to meet growing demand.
Abu Dhabi is focusing on expanding its nascent nuclear and solar industries. Work on the pioneering Barakah Nuclear Energy Plant, which is the largest single nuclear energy new-build project in the world, is well under way with construction of its four units more than 82 per cent complete (see Power Generation).
Abu Dhabi is also building what is believed to be the world's largest independent solar power plant in Suweihan. It is being jointly developed by Japan's Marubeni along with Jinko and Abu Dhabi Water and Electricity Authority (Adwea). Construction of the Dh3.2-billion ($870 million) project, which will deliver a capacity of 1,177 MWp, is to be completed in April 2019.
Transportation
A trend-setting project mooted for Abu Dhabi is a high-speed hyperloop which could link Abu Dhabi and Al Ain in under 12 minutes, compared to two hours by car today. Work is currently in progress on the route analysis, feasibility studies, cost estimates and a development schedule.
In the roads sector, two packages of the 328-km Mafraq-Ghuwaifat Highway project – totalling 64 km – that will link the western region of Abu Dhabi to the international borders with Saudi Arabia have been completed.
Abu Dhabi's rail ambitions through the $11-billion Etihad Rail Project have suffered a setback with the project stalled temporarily following the withdrawal of the tender of its 628-km second phase – connecting Ruwais to the Saudi border – in January 2016.
Real Estate
Yas Island has been in the forefront of real estate development plans this year with stunning projects such as $3.3-billion Yas South, Yas Arena and Yas Acres having made the headlines recently. Spearheading developments on Yas Island are Aldar Properties and Miral, Abu Dhabi's leading creator of destinations.
Earlier this year, Miral launched a Dh12-billion ($3.3 billion) master development plan to transform the southern end of Yas Island with a vibrant waterfront promenade with residential complexes and entertainment destinations. The development comprises three areas: Yas Bay, a vibrant public waterfront and entertainment district; the Media Zone, featuring the new campus of twofour54; and the Residences at Yas Bay, an urban island community.
As part of Yas Island's vision as a global destination for family entertainment and leisure, Miral is investing Dh4 billion ($1.08 billion) into Phase One of the 14 million-sq-ft development.
Yas Bay will feature two hotels, a recreational pier, and Yas Arena, a first-of-its-kind 18,000-capacity venue.
Miral has also joined hands with SeaWorld Entertainment to develop a first-of-its-kind marine theme park on Yas Island. SeaWorld Abu Dhabi will also feature a world-class aquarium and a marine life research, rescue, rehabilitation and return centre. Set to open by 2022, the park will complement Yas Island's four other themed attractions - Ferrari World Abu Dhabi; Yas Waterworld; and the Warner Bros World Abu Dhabi and Clymb, both of which are expected to open in 2018.
Meanwhile, work is in progress on the Dh6-billion ($1.63 billion) Yas Acres, Aldar Properties' flagship development on Yas Island. Aldar is committed to handing over the first homes in the development to purchasers at the end of 2019. The development comprises a total of 1,315 homes, a golf course, schools, retail, and other leisure amenities.
Other projects by Aldar on Yas Island are West Yas, its first villa community on the island, Ansam, a residential development which is nearing completion, and Mayan, a golf and waterfront development including five 11-storey buildings.
Meanwhile, Aldar said work is moving at a steady pace at its master-planned community on Reem Island, with a 2.4-km canal now open and construction of the Vida Hotels and Resorts set to start this year. The development includes a park, canal, hotel and mid-market residences.
Aldar Properties has also launched The Bridges, a 1,272-unit mid-market residential development to be built at a cost of Dh1.3 billion ($354 million) on Reem Island. Construction is expected to begin in the fourth quarter and handover is slated for the first quarter of 2020.
Saadiyat, the pioneering island development programme of the emirate, continues see a raft of new projects taking shape. Recently, Bloom Properties started the construction works at its Soho Square, its second mixed-use development on Saadiyat featuring 302 high-end residences.
Spearheading the development of Saadiyat is the Tourism Development & Investment Company (TDIC), master developer of major tourism, cultural and residential destinations in Abu Dhabi, which has a string of residential projects under way as well as the iconic museum projects such as Louvre Abu Dhabi and Guggenheim. These include Mamsha Al Saadiyat, Jawaher Saadiyat and Saadiyat Lagoons District (see Saadiyat sanctuaries).
Among other projects, work is progressing well on the 45-sq-km mixed-use mega-project Zayed City (previously Capital District) with essential infrastructure works 20 per cent complete.
In the mall development sector, Majid Al Futtaim expects to launch work next month (October) on its Dh1.4-billion ($381.15 million) City Centre Al Jazira (see UAE Focus). It is also setting up a Dh300-million ($82 million) shopping destination in Masdar City – My City Centre Masdar – which is to open by 2018-end.
Work on $1-billion Al Maryah Central is on track for opening by the end of 2018, according to its developer, the UAE-based Gulf Capital (see Maryah magnet).
Among other developments, Marina Mall Abu Dhabi is to undergo a Dh3-billion ($816 million) expansion which will see 120,000 sq m of space added to the destination in two years.
More Stories