Regional News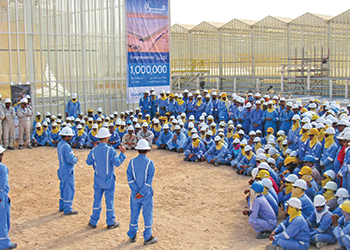 Safety milestone at solar plant
September 2017
Glasspoint Solar, a leading supplier of solar power to the oil and gas industry, has celebrated the successful completion of one million man-hours without a lost time injury (LTI) on the Miraah solar plant that it is building for Petroleum Development Oman (PDO) in the south of Oman.
Miraah, a 1,021-MW solar thermal project, will be one of the world's largest solar plants, delivering over one gigawatt of peak thermal energy.
This achievement is a result of GlassPoint's commitment to safety and the adoption of rigorous oil and gas industry best practices, the company said.
It is also a reflection of the excellent performance of employees across the company and its contractors, it added.
Once complete, the Miraah facility will generate 6,000 tonnes of solar steam per day, delivering a significant portion of the steam requirements at PDO's Amal oilfield.
More Stories