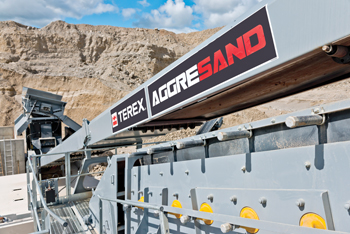 TWS is a master of fines
November 2017
Terex Washing Systems (TWS) says many of its sand processing equipment have been working for years for satisfied customers throughout the region, processing crushed and dredged sand.
Its products that are most suited to the Middle East market include AggreSand, the modular sand washing plant, as well as some of the firm's legacy washing plants, namely the FinesMaster Cyclone and Bucketwheel range and the T range sandplant, which also features bucket wheel style technology.
More recently, AggreSand is proving a popular option with customers in this region and this month sees an installation in Bahrain, says a company spokesman.
"The AggreSand 206 offers feeding, rinsing/screening and sand processing together on one chassis, pre-wired and pre-plumbed. The equipment can be delivered fully containerised, for streamlined transportation, swift commissioning and ease of relocation," he explains.
Other major features include full electric drive that provides an eco-friendly solution, resulting in reduced operating costs, the ability to integrate with other TWS equipment, depending on the customer's application, and a seamless HMI communication system that provides real-time data on pressure, flow, amp usage and production data. In addition, there is a fully automatic start-up and shutdown sequence.
Key features of the FinesMaster Cyclone include a static sand recovery unit on one chassis, a centrifugal slurry pump, hydrocyclone, collection tank, and 12 x 5-inch dewatering screen. The unit produces one grade of sand and is designed to work in conjunction with the Terex Washing Systems range. The T Range, is a mobile bucket wheel that dewaters complete with fines retention screws, for the removal of clays, silts and slimes and produces up to two grades of sand, says the spokesman.
On a recent visit to the UAE, TWS officials met many customers already using the cyclone and bucketwheel equipment that has been producing effectively for many years. Among them was the Fujairah-based Saleh Bin Lahej Rocks & Aggregates, which is celebrating its 10th year of sand washing.
TWS is a premier provider of advanced plant solutions for material and mineral washing needs for industrial sands, aggregates, recycling and mining. It is headquartered in Northern Ireland with additional centres of excellence in Europe, Asia and America.
More Stories