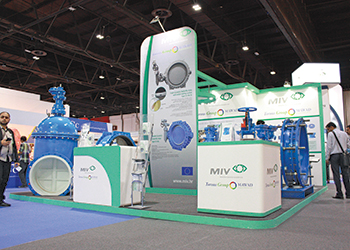 Water, energy solutions in spotlight at Wetex
August 2017
The latest innovative solutions in energy, water, and the environment will be highlighted at the 19th Water, Energy, Technology, and Environment Exhibition (Wetex) and the second Dubai Solar Show in Dubai, UAE.
Organised by Dubai Electricity and Water Authority (Dewa), Wetex will be held from October 23 to 25 at the Dubai International Convention and Exhibition Centre. For the fourth consecutive year, Dewa is organising Wetex under the umbrella of Green Week, which includes various environmental activities and events to raise awareness about the importance of using energy and water sensibly, and the key components of sustainable development and green economy.
Many of these technologies will be unveiled for the first time, especially in renewable energy, water, sustainability and rationalisation.
The two exhibitions will act as an integrated platform for companies and organisations working in these key sectors to promote their products, services and innovative technologies, and meet decision-makers, investors, buyers and interested parties from around the world to make deals, build partnerships, review the latest technologies in these sectors, learn about current and future projects and market needs, and explore opportunities to take part in solar-energy projects and programmes in the region.
The 18th Wetex and the first Dubai Solar Show in October 2016 were a huge success with large participation from exhibitors, visitors, participants, and government organisations. They attracted 1,975 exhibitors, around 25,000 visitors from 47 countries, and 67 sponsors.
More Stories