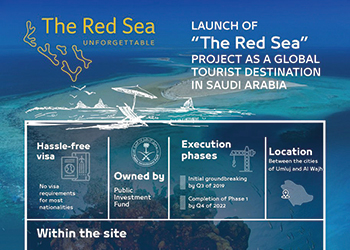 Massive Red Sea project launched
September 2017
Saudi Arabia is to develop a massive international tourist destination covering more than 50 virgin islands in the Red Sea.
The Red Sea Project, as it is known, was launched last month by Saudi Crown Prince Mohammed bin Salman bin Abdulaziz Al Saud, who is also the chairman of the Public Investment Fund (PIF).
The destination will be located between the cities of Amlaj and Al Jawh, in one of the world's most beautiful and diverse natural spots, and feature exceptional resorts built in co-operation with the world's largest hotel chains, a Saudi Press Agency report said.
The foundations for the new project – which will spread over 34,000 sq km – will be laid in the third quarter of 2019 and the first phase will be completed in the last quarter of 2022, by which time the infrastructure, an airport, hotels and luxury residences, and transport services are expected to be in place, the report said.
The PIF will inject the initial investments needed into the project and open partnerships with leading international companies, including renowned names in the tourism and hospitality sectors.
The development will be located a few kilometres from one of the kingdom's protected reserves and inactive volcanoes in Harat Alrahat area.
A few minutes from the main beach, visitors will be able to discover hidden treasures in the Red Sea, including a nature reserve to explore the diversity of flora and fauna in the area. Adventure enthusiasts will be able to navigate between inactive volcanoes, and dive enthusiasts will be able to explore the abundant coral reefs in the surrounding waters.
The project will be a centre for recreation, health and relaxation and will be governed by environmental laws.
More Stories