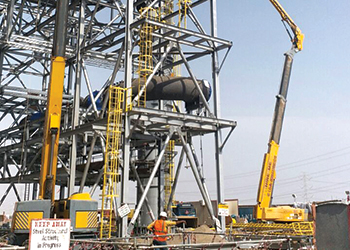 Haulotte rises to refinery tasks
October 2017
Haulotte's innovative articulated and telescopic big booms have been put to good use at Saudi Aramco's Jazan Refinery and Terminal project.
The models in use include the articulated boom lifts HA41PX-NT and HA41RTJ PRO, the HT43RTJ PRO telescopic boom lift, and the new HT28RTJ PRO.
Haulotte booms are designed with the latest technology and the highest level of safety features.
"The HA41 models have an outreach of 19.8 m and the best lifting speed in the market with less than 40 seconds which reduces time and increases productivity. The HT28RTJ PRO, equipped with the innovative Stop Emission System, automatically puts the machine on stand-by after an extended period of inactivity. These telescopic booms offer unparalleled flexibility and precision, giving users greater confidence and letting them reach the desired work area quickly and safely," says a spokesman for Haulotte.
As per Saudi Aramco's request, all machines were equipped with a secondary guarding system, the Haulotte Activ' Shield Bar 2.0, which offers additional protection, shielding users from any risk of crushing without compromising productivity.
The system alerts the operator to potential entrapment situations and is unique in that it features a safety gap which can protect operators from full entrapment and potentially allow them to get out of danger, says Haulotte.
Following the alert, only reverse/lowering movements are permitted, allowing the possibly panicked operator to get out of trouble without making the situation worse. And, after being triggered, the system is easy to reset and reactivate from the basket which means there is no machine downtime.
This evolution guarantees better ergonomics, enhanced robustness and simpler system, perfectly integrated into the upper control box cover, says the spokesman.
On completion, Jazan Refinery and Terminal will have capacity of up to 400,000 barrels per day (bpd). It will produce 80,000 bpd of gasoline, 250,000 bpd of ultra-low sulphur diesel and over 1 million tonnes per year of benzene and paraxylene products.
The complex will also have a state-of-the-art port and a 4-GW power plant that will make the refinery entirely self-sufficient and provide power to locally owned manufacturing and service companies.
The refinery is part of Jazan Economic City (JEC) in the city of Jizan on the southern coast of the Red Sea, which Saudi Arabia is building with the help of Saudi Aramco, for $27 billion.
The economic city is being built to nurture non-oil based industries, expand the kingdom's existing industries to serve domestic needs and rejuvenate the Jizan region by providing employment opportunities.
More Stories