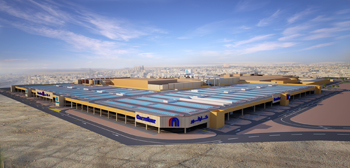 Shopping destinations
In line with its $8bn investment ambition, Majid Al Futtaim is building new City Centre malls and expanding existing ones in three of the Northern Emirates.
November 2017
As part of its planned Dh30-billion ($8.16 billion) investment in the UAE by 2026, Majid Al Futtaim is working on four City Centre projects in three of the Northern Emirates, including entirely new centres in Ras Al Khaimah and Sharjah and expansion of existing ones in Ajman and Sharjah.
Work is currently in progress on a new shopping mall in Ras Al Khaimah – called My City Centre Al Dhait – which represents an investment of Dh68.5 million ($18.65 million) and is expected to be complete in January 2018. The superstructure is completed, and façade and MEP (mechanical, electrical and plumbing) works are under way on the project.
Construction work on the complex began in April 2017, immediately after the main contract was awarded to Amana Contracting and Steel Buildings. Archcorp Architectural Engineering is the main consultant on the project and Faithful & Gould is the cost consultant.
My City Centre Al Dhait is strategically located between the fast-growing neighbourhoods to the north and southwest of Al Dhait and is Majid Al Futtaim's first shopping destination in Ras Al Khaimah. It is easily accessible, with close proximity to Mohammed Bin Zayed Road.
Once complete, My City Centre Al Dhait will have a gross leasable area (GLA) of 5,494 sq m and a built-up area of 7,000 sq m, offering visitors several coveted lifestyle, convenience and fashion brands in 30 new outlets.
It will include a 1,184-sq-m Carrefour supermarket, 'Mini Major' store, food and beverage (F&B) outlets such as Blend & Brews, Popeye's, Gazebo, Hatam and McDonalds, and Magic Planet for family entertainment. The Art of Shaving and Popeye's will be making their debut in Ras Al Khaimah at the mall.
The shopping centre will also have 117 parking spaces on the ground floor with easy access to its entrance. The car-park will have monitored entry and exit to and from the premises to ensure the highest safety standards and a smooth flow of traffic, says the developer.
Majid Al Futtaim has drawn up a sustainability strategy for the mall, and the project is on target to achieve Leadership in Energy and Environmental Design (Leed) Gold status, including a minimum of 7.5 per cent energy saving by using solar car-park shading. The mall uses LED lights.
"The sustainable materials used on the project all comply with Leed requirements. We have procured wood products with a FSC (Forest Stewardship Council) certificate," says a spokesman for Majid Al Futtaim.
Another strategy employed at the project is to target three Leed points for regional materials by achieving a corresponding percentage of 30 per cent by cost. Here, Majid Al Futtaim has achieved 45 per cent. The spokesman says the value of regional material is equal to 50 per cent of the total material costs.
Also the project targets two points for recycled materials by achieving a corresponding 20 per cent by cost. Here again, the company exceeded targets, achieving 45 per cent. These were procured locally in line with the credit requirements.
City Centre Ajman
Meanwhile, a Dh600-million ($163 million) redevelopment of City Centre Ajman is under way, which will be followed by an additional refurbishment of the existing mall, in response to customer feedback and requests for more F&B and retail options in Ajman.
Located on Sheikh Zayed Road, Al Jarf, the one-storey mall covering 52,000 sq m is undergoing an expansion that will see it double in size from 29,000 sq m to 52,000 sq m on completion. Khansaheb is the contractor.
There will be 12 new stores with several brands debuting as part of the new phase, and new international restaurants offering with al fresco dining. The new stores and F&B outlets include brands like Paris Gallery, Nando's, Gazebo, Mado Café, Daiso, Annabelle, Adidas Young Athlete, Femi9, Patchi, Louis Feraud, Pizza Express, Malabar Gold, and Tim Horton's. The centre's facilities are being upgraded with the addition of more prayer rooms and restrooms.
The mall has already completed the expansion of the VOX Cinemas, adding more screens including 4DX and specially-designed children's theatres.
The redeveloped City Centre Ajman will have open parking for 3,200 cars. As part of Majid Al Futtaim's sustainability strategy, the mall will feature water-saving fittings and LED lights.
The mall management has created a temporary parking lot with an additional 1,600 slots. Signage has been put up along with added marking and bollards to demarcate legal parking spots and non-parking zones. The mall has also deployed traffic marshals for the convenience of visitors.
City Centre Sharjah
Some 75 per cent of the Dh260-million ($70.78 million) expansion under way at City Centre Sharjah is complete and is being carried out by HLG. The project will see its size increase to 51,400 sq m over two storeys, adding 30 new brands, F&B and entertainment offerings, and more than 700 additional parking spaces, taking the total to 3,200 spots on three levels.
The new stores and F&B outlets include Vox Cinemas, Carpisa, Nandos, Gazebo, McCafe, Chili's, Daiso, Sharaf DJ, Home Box, Annabelle, Khaadi, Flormar, EyeZone, Yateem Optician, and Life Pharmacy. City Centre Sharjah will be home to the largest VOX Cinemas multiplex in the emirate upon completion. The 12-screen, high-tech multiplex will boast a vivid digital image projection system, Dolby Atmos and 7.1 multidimensional surround sound. Moviegoers can choose from the MAX experience and Gold. The mall already has Magic Planet for children's entertainment.
The mall management says it has achieved all its project milestones on the two mall expansion without significant challenges and is on track for completion as per the timeline.
Majid Al Futtaim also follows a standards policy for the safety of all staff at the construction site which is aligned with international best practice standards. It has put in place many of the building blocks of a robust health and safety system and continues to work towards establishing a holistic and systematic approach across all activities to minimise issues on site.
To ensure a smooth flow of traffic during expansion work, the mall management has taken necessary steps to minimise disruption so that visitors can continue enjoying their shopping experience at the malls, says the spokesman.
On completion, the mall will have fully functional parking lots with monitored entry and exit to and from the mall to ensure the highest safety standards and smooth flow of traffic.
Majid Al Futtaim is also building a 'super-regional' shopping mall at the master-planned Al Zahia residential community in Sharjah, which is planned to open in 2018. It will have a gross leasable area of 130,000 sq m and will be named City Centre Al Zahia. The centre is expected to have a wide catchment area due to its strategic location near Sheikh Mohammed bin Zayed Road (E311), which connects the Dubai, Sharjah, Ajman, Umm Al Quwain and Ras Al Khaimah.
More Stories