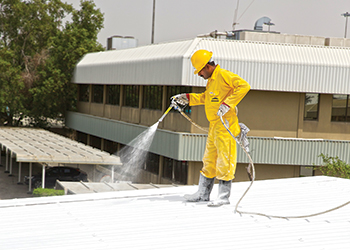 Dow shows way to keep roofs cool
May 2017
Dow Construction Chemicals is promoting technologies that help create energy-efficient cool reflective roof coatings (CRRCs) in response to the growing demand for "cool roofs" in the Middle East region.
Manufactured at Dow's state-of-the-art production facility in Jebel Ali, UAE, these materials are a critical component in CRRC formulations.
According to Durmus Topcu, sales director of Dow Construction Chemicals, construction chemicals in the region have to contend with a number of climate and environmental challenges. There is also a growing need for solutions in sustainable construction that can help buildings to run more efficiently and ultimately enhance the overall performance of the structure.
Topcu says: "Energy efficiency is a core component of sustainable construction and will continue to be in the region as each country drives forward more efficient ways of utilising its natural resources. Construction chemicals contribute heavily to the support of this, and there are a number of innovations that can significantly help to preserve infrastructures, as well as reduce energy usage inside and outside of a building."
One such method to boost energy efficiency is the use of CRRCs. When applied to exterior roof surfaces, cool roof coatings help reduce the air-conditioning load required in hot climates by reflecting the solar heat rather than absorbing it.
Dow's acrylic elastomeric coatings create energy-saving roofs that reflect the sun's heat and help prevent it from being absorbed into the roof of the building, thus reducing carbon dioxide (CO2) emissions.
"Because of their white colour and reflective capabilities, cool roofs reduce the heat build-up common with bituminous roofing systems, providing higher comfort and quality of life for a building's occupants while significantly lowering energy consumption and cooling loads for air-conditioning. Elastomeric CRRCs can also be applied on top of weathered roofs, prolonging significantly their service life and minimising waste and landfill deposition created by substituting old material," Topcu explains.
Durable CRRCs can also protect the roof from environmental degradation and help reduce the effect of peak temperatures and resulting mechanical stress, leading to an expanded lifetime for the roof. The formulation is designed to cope with surface temperatures in excess of 80 deg C. In addition, the binder offers long-term dirt pick-up resistance – essential for maintaining the solar reflectivity which is key to achieving energy savings – and high ultraviolet (UV) resistance, critical for an application constantly exposed to the harsh Middle East sunlight.
Dow also offers a binder for waterproofing membranes, which has been designed with the region's specific application needs in mind, particularly high temperature performance. Primal AS-8012 styrene acrylic emulsion polymer is a next-generation, environmentally-advanced binder for two-component, cement-based flexible waterproofing membranes.
Topcu explains that these waterproofing membranes can be applied with a brush and will cure to form a water-resistant, flexible coating. The binder offers high flexibility, elongation and excellent crack-bridging ability.
"Performance at high temperatures, including high tensile strength, good water and alkali resistance had to be a given, but with regulatory requirements key to potable water applications, it has been vital to ensure the product's compliance with internationally-recognised standards too – such as BS 6920: 2000," he points out.
Dow also offers technologies to make exterior paints look better and last longer. One such coating is the Dirtshield 12 acrylic emulsion, a 100 per cent acrylic polymer emulsion with proprietary crosslinking designed for premium exterior paints with a high level of dirt pick-up resistance.
Based on an all-acrylic backbone, Dirtshield 12 acrylic emulsion provides excellent exterior durability and is well suited for tropical, humid and hot climates.
"Representing a major improvement over conventional thermoplastic acrylic technology, Dirtshield 12 acrylic emulsion exhibits outstanding exterior dirt pick-up resistance, excellent mechanical stability and is most suitable for gloss, semi-gloss, sheen and below-CPVC (Critical Pigment Volume Concentration) flat exterior masonry paints," says Topcu.
More Stories