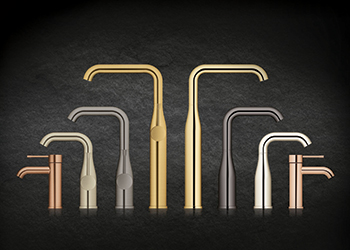 Touchless faucets meet demand
July 2017
Grohe, one of the world's leading providers of sanitary fittings, has introduced two well-designed faucets featuring touchless electronic control to its restyled and re-engineered Essence E and Eurocube E lines in the Middle East.
Already a long-time feature in public and commercial washrooms, touchless faucets are also gaining in popularity in residential bathrooms due to their unique combination of comfort and hygiene, it states.
The two new Grohe faucets demonstrate that they can also make bold design statements. "Whatever the décor and the ambience, Essence E and Eurocube E offer the ideal faucet. Their perfect proportions ensure maximum comfort in use with lots of space under the spout for hand-washing. Their intuitive design means they are optimally suited for bathrooms and sanitary facilities used by children and older people," says a company spokesman.
According to him, both faucets can be optimally paired with numerous washbasin variants.
"Their bi-directional sensors are positioned for flawless functionality even when mounted on washbasins with elevated edges. For added versatility, the modern infrared units come with seven pre-programmed standard settings for the most common applications," he notes.
"As always, sustainability has also been taken into account: the sensor-controlled start-stop function automatically ensures that water only flows as long as a user's hands are detected below the spout," the spokesman adds.
At the same time, the faucets economises on water by capping consumption at 5.7 litres per minute without compromising user comfort, he says.
More Stories