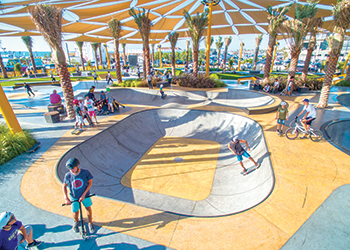 Convic 'Xcels' at skate park
August 2017
With the XDubai Kite Beach Skatepark, Convic has created an exceptionally inclusive space that integrates seamlessly into the community.
The XDubai Kite Beach Skatepark – the largest of its kind in the region – has gone from strength to strength since opening in January 2016, showcasing the transformative power of action sport parks.
Designed and built by the Australian action sport park firm Convic, the skatepark in Dubai, UAE, was completed within a span of 12 months – from conceptualisation to opening – with Belhasa as the main contractor for the on-site works and Gebal as the shade structure manufacturer and installer within the development.
Convic, which has a base in Dubai, was the ideal partner to deliver the 3,200-sq-m space, given its experience in designing more than 700 community action sport parks globally over the past 18 years and its focus on establishing youth-oriented yet inclusive community spaces.
"At the concept stage, we took a very holistic view, contemplating all proposed uses of the space and aiming to create a balance between the needs of the sporting community as well as those of surrounding neighbourhood," Julius Turanyik, general manager of Convic, tells Gulf Construction.
The park enjoys an idyllic beachfront location at Dubai's Kite Beach. "With a focus on engaging youth, their families and the wider community, no level of detail was spared in the concept and design phases," Turanyik continues. "The park needed to have iconic qualities, be instantly recognisable and become ingrained as a destination in and of itself within an active and growing neighbourhood."
The result of this considered approach was a number of clearly defined park zones which, in turn, informed the skate park's overall structure and design composition. Considering that the park would be used by both experienced skateboarders and action sport athletes, as well as those who were learning, skateable areas zones that were both dynamic yet inclusive were established.
The central space of the plaza saw a variety of street skate elements established, ensuring a space that is well-suited for larger events, exhibitions and competitions. Ramps, ledges, banks, steps, walls, rails, and grinding poles and other obstacles were designed, giving users of varying skill levels a platform to showcase their abilities during everyday use, as well as during competitions.
A low-profile skate plaza with unique street elements and transition flow area connected banks and blocks, while quarter-pipes created continuous runs that appealed to athletes of all ages and abilities.
Also pleasing to intermediate and expert skateboarders, and appealing to the aspiration of the novice skateboarders who use the park is one of the space's defining features, the XBowl.
"The biggest feature of the park's skate area, and with the deepest reaches rivalling some of the world's most challenging bowls at 3.2-m deep, XBowl provides an exciting skate environment for more advanced and intermediate skaters," Turanyik comments.
With sport-focused zones established, further connection was needed not only for transitional links to the surrounding beachfront, neighbourhood cafes, and adjacent parks, but also throughout the facility to encourage community use and participation.
"With this in mind, a series of pathways were woven throughout the entirety of the park, allowing pedestrians, spectators and parents the opportunity to comfortably experience the highly active wheeled sports areas from varying angles and intensities," he says.
Further promoting community patronage are numerous refuge areas consisting of lush grass planting, sloped lawns, shade palms and macro particle seating with integrated power and wi-fi. "The areas not only provide an ideal and welcoming location for spectating and refuge, they also dispel the common image of hardscape associated with skate parks. The continuity and direct contact of vegetation, social provision and skateable terrain come together to create an 'active oasis' parkland setting," Turanyik points out.
Designed with continuous activity – including usage throughout both day and night – in mind, the park is shaded by a large structure with open sections for palms to poke through. This creates an interactive space filtered with dappled light and shade. Integrated lighting also ensures that the park is also a night-ready facility for everyday usage as well as events.
With the recent International Olympic Committee decision to include skateboarding in the Tokyo Summer Games in 2020, Convic believes that the success of the space and the platform it provides for young athletes in the UAE, further paves the way for other facilities of its nature within the region.
"Through our work with XDubai, we have created an exceptionally inclusive space that integrates seamlessly into the community, as it also provides a state-of-the-art facility for sport development and social interaction," says Turanyik. "Through both its iconic location within Dubai as well as its architecturally appealing design, the park not only provides a platform for budding and elite athletes but also a venue for both local and international events. It is an investment in the city, the community and in particular, its young members, and we know that it will pay dividends for many years to come."
With a presence firmly set in Dubai, its first Middle Eastern project complete and thriving and with more in the pipeline, Convic has now set its sights on regional expansion and is in the process of working with various regional organisations on plans for future parks.
With details to be released in due course, Convic says that developers, observers and athletes and can expect spaces that will likely include a variety of features and elements that appeal to the broader community such as street art, event and stage spaces, seating, action play zones, terraces, yoga spaces, barbecue and picnic areas, fountains, and sport facilities such as half-court basketball courts, table tennis tables, or parkour features.
More Stories