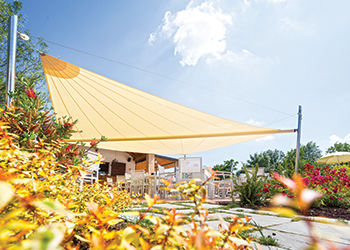 Sea-themed Sails are made for shade
August 2017
KE of Italy is promoting the advantages of Kheope and Kolibrie models from its Sails range of tensile fabric structures that can enhance any kind of outdoor space.
The Italian company's designs are based on a constant aesthetic and technological research into the integration of sun protection systems in all different types of architectural forms.
Inspired by the sea, the Sails range is designed to provide sun protection using fabrics and marine-derived technology that resists weathering and salt corrosion, according to a company spokesman. Sails is a sun-shading range that is offered in wide dimensions, different installation systems and home automation elements.
Within the range, Kheope stands out as a large shading sail, representing an innovative choice for the sun protection of tomorrow. The steel structure and the nautical materials ensure great functionality and lightweight design, according to the spokesman.
"Kheope is a modern shading structure that enhances open-air areas with its polished steel structure and sail-like shades of high quality. Thanks to its sleek design, it easily adapts to different landscapes.
"Thanks to its high versatility, Kheope is the ideal solution offering both elegance and comfort in the home, in public areas and commercial spaces (hotels, bars, swimming pools and seaside facilities). It is configured with a motorised handling and an exclusive anemometer ensures automatic closure in case of strong winds," he says.
Measuring up to 7 by 7 m, Kheope can be customised upon demand. It comes with one mast and three poles. The sail structure comprises 304 electropolished stainless steel (masts and brackets), and the boom is in anodised aluminium.
It is available in nautical Dacron fabric in white, sand and Bordeaux, with the thread made of braided polyester treated to increase resistance to weathering and corrosion. It can also be offered in waterproof resin-coated Tempotestar and Starlight fabrics. Dacron is a polyester fabric with specific woven wire typical of boat sails.
The 'sail' has been tested for wind resistance Class 1 according to EN 13561/2015.
Meanwhile, Kolibrie is a stylish sail shading system that offers versatility, elegance, practicality and quality. It features only one support column, which is capable of 360-degree rotation, thanks to the pedestal bearings.
Kolibrie can be operated manually or motorised. Featuring an anemometer, the awning will close automatically when it detects strong winds. Made of Dacron, Kolibrie guarantees high durability and resistance to weathering and salt, making it ideal for resorts and marine facilities. Furthermore, the use of marine materials throughout the structures ensures that Kolibrie will remain durable.
"Thanks to its refined aesthetics and material quality, Kolibrie is a truly unique design - a light and modern expression of an innovative way to shade outdoor spaces for the outdoor lifestyle," says the spokesman.
Kolibrie is available in dimensions of 380 by 380 cm and 320 by 320 cm and is offered in white, sand, and Bordeaux colour options.
More Stories