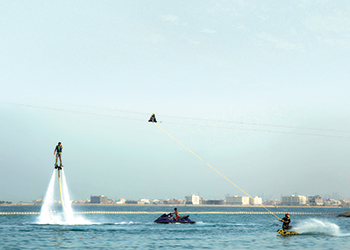 'Wake' up call by waterfront
August 2017
Bahrain's latest water sports attraction for wake and ski fans is now operational at Marassi Al Bahrain, a waterfront project at Diyar Al Muharraq.
The state-of-the-art cable wake park, brought to Bahrain from Germany, joins Bahrain's biggest floating waterpark, measuring 35 m by 50 m and featuring trampolines, pyramid slides, climbing obstacles and dive-through tunnels, says Eagle Hills Bahrain, the developer of Marassi Al Bahrain.
Located at Marassi Beach, a popular beachfront area, it will be operated by local water sports gurus from Bahrain Wake.
The aquatic playground was specially ordered for Marassi Beach. "With these two water-based activities, plus our extended food and beverage (offering) and children's playground, Marassi Beach is now the best venue for a fun family day out in Bahrain," remarks Daniel Hammond, the general manager of Eagle Hills Bahrain.
The set-up and equipment used in the cable wake park is one of a kind in Bahrain and has the highest standards of safety and operation, he adds.
"Experienced boarders will love the obstacles and jumps in the park, whilst beginner adrenaline-seekers will also be able to test their skills in wake or knee boarding and skiing. We will be manning the park with professional staff at all times, and lifeguards are on hand covering the whole beach and the floating water-park during beach opening hours," Hammond points out.
Marassi Al Bahrain is a distinguished urban project by Eagle Hills, a private real estate investment and development company, headquartered in Abu Dhabi, as part of a joint venture agreement with Diyar Al Muharraq, the developer of mega-project Diyar Al Muharraq.
Marassi Al Bahrain's two-kilometre beach, with a brand-new waterfront retail and food and beverage (F&B) promenade, is currently open to the public with a full range of services and facilities.
Spanning 875,000 sq m, Marassi Al Bahrain is being constructed on the northern shores within the master-planned community of Diyar Al Muharraq, forming a key luxury component of Bahrain's largest private urban project.
Set to become one of the kingdom's major shopping, family entertainment and dining destinations with 180,000 sq m of gross floor area, Marassi Galleria will attract the world's leading brands, many for the first time in Bahrain.
More Stories