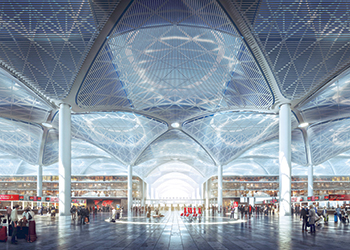 Transport thrust
August 2017
Turkey is undertaking a significant number of infrastrucure projects, benefiting from public-private partnerships, writes ABDULAZIZ KHATTAK.
Turkey's construction sector is expected to experience a slowdown this year, down to 5.6 per cent year-on-year (y-o-y) real growth, compared to the 7.2 per cent growth registered in 2016, according to a report by BMI Research.
In its newly-released Infrastructure Report for Q3 of 2017, the research organisation indicates that infrastructure will outperform the residential and non-residential sector over the next five years as private investment slows in the face of continued macroeconomic and political risks.
Turkey's privatisation drive has seen the country's infrastructure open up to investors. The government has been increasingly using the public-private partnership model to develop infrastructure.
President Erdogan's victory in the April constitutional referendum continues to pose the risks of authoritarianism but also suggests there will be continued support for infrastructure projects.
Roads & railways
The transport sector will continue to outperform in terms of growth, with rail, road and airport sectors all to see further investment over the next five years.
The government is expected to spend $3 billion on railway projects this year and intends to build 5,000 km of highway by 2019. Turkey is keenly eying private sector partnership in this sector with at least 13 PPPs in planning or under construction, says the BMI report.
Turkey's ambitious rail development plans involve more than doubling its current railway network over the next decade, with the various initiatives projected to cost $45 billion until 2035. At least 1,500 miles of high-speed rail line are planned to be built in the next five years to connect 14 different cities. The Turkish government has already announced plans to invest $11 billion expanding Turkey's rail network over the next two years. China has become a major player developing Turkey's rail network ever since it won a contract in 2005 to develop the Ankara-Istanbul high-speed railway under an unprecedented $30-billion loan. Turkey has given its nod to be part of the new 'One Belt, One Road' project, which will see a rail connection built from China, through Central Asia and Iran to Turkey.
Four of the five most expensive projects in Turkey's transport project pipeline are road and bridge projects. Leading the sector is the $6.5-billion 421-km Izmir-Istanbul motorway, a build-operate-transfer (BOT) project. The 6.5-km Grand Istanbul Tunnel Project worth $3.5 billion is still in the planning stage, while the 3.6-km-long Canakkale Suspension Bridge is under construction for $2.8 billion.
Ports & airports
Work is under way on the first phase of the new Istanbul airport, which is scheduled to open early next year. The project is being carried out in four phases, which will take the airport's annual capacity to 150 million passengers. Turkey aims to have at least 60 airports by 2023, including the Hakkari-Yüksekova Airport and three others in the Antalya region in a drive to become hub between Europe and Asia, says the BMI report.
In the ports sector, local and international operators have been investing millions of dollars in various projects. This includes the expansion of Iskendurum Port by Limak Holding worth $250 million; Yarimca Port by DP World ($107 million); various port projects by domestic port operator Yilport (valued at $500 million); and APM Terminals' investment of $400 million in Aegean Gateway Terminal to make it one of the largest in Turkey.
Among other developments, Dogus Holding is investing $1.5 billion in the redevelopment of Istanbul Salipazari Port Area, commonly known as Galataport, (see separate report).
Real estate
Given Turkey's large, young and growing population, combined with a robust rural-urban migration, BMI paints a positive outlook for the housing sector with an annual average growth of 2.8 per cent in real terms expected between 2017 and 2026. The government-backed urban regeneration programme, launched over two years ago, is estimated to be worth $500 billion over the next decade. Stern Immobilien was the first foreign investor to sign a $300-million deal under this programme, with Turkish builder Vartas Yapi, to build a 3,000-unit housing block in Istanbul. The Sea Pearl Atakoy in Istanbul is another 1,401-unit residential project under construction at a cost $2.7 billion.
In the healthcare sector, Turkey plans to spend $230 billion by 2023, with $200 billion to come from the private sector. This segment has seen a number of successful contracts, including a $407.75-million deal with foreign investors for a 1,180-bed hospital in Kocaeli.
Also in the non-residential sector, Turkey saw the opening of Emaar Square Mall this year in Çamlica built with a $2.3-billion investment by Emaar Turkey, a subsidiary of Emaar Properties of the UAE. The $1.38-billion Land of Legends Theme Park in Antalya is another Emaar project being developed jointly with Rixos Hotels and Dragone Productions. The 639,000-sq-m park will see completion next year.
More Stories