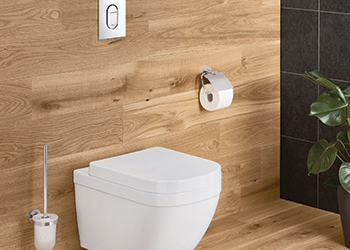 Grohe has just made flush plates prettier
August 2017
Grohe says its new toilet flush plates are not only high on functionality but also look good and blend well with the overall ambiance of the room.
The leading provider of sanitary fittings says the new aesthetic solutions, available in all shapes, are small in size and have a flat design.
"Grohe developers have successfully reduced the size of the flush plates to 130 by 172 mm without compromising cistern access or complicating maintenance," says a company spokesman, adding that the combination of stylish design and excellent functionality is a compelling proposition for interior designers, residents and installers alike.
By adding Skate, Nova and Arena Cosmopolitan S models to its comprehensive range of modern flush plates, Grohe is offering even more options for customised bathroom design.
For optimum harmony with other bathroom fixtures, the new plates are available in chrome, matte chrome, Alpine white and SuperSteel. Full compatibility with all popular Grohe cisterns means that the new plates can be installed almost anywhere.
In addition, Grohe EasyConnect technology – a pneumatic hose connecting the plate to the flush valve – makes for quick, tool-free installation. The plates lock into place using invisible space-saving magnetic holders. This way the plate can easily be detached for maintenance, with access to the cistern remaining unobstructed in spite of the reduced plate format.
Economical use of water is ensured by the proven dual flush which utilises just the right amount of water to flush the bowl quickly and effectively, the spokesman adds.
More Stories