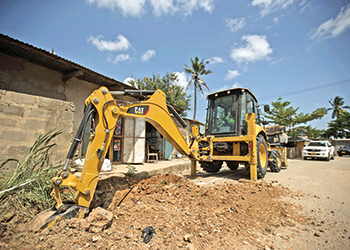 Cat expands backhoe loader line
October 2017
Offering a highly configurable design, the new Cat 426F2 backhoe loader with Side Shift frame provides customers with additional choices, allowing the selection of a more base-specification model or a highly configured machine to match budget and operating needs.
Adding to the popular Cat F2 Series backhoe loader family, the new 426F2 is designed with the operator in mind, featuring an all-new cab design that provides a comfortable and operator-friendly environment with excellent visibility, says a company spokesman.
High pump oil flow delivers excellent hydraulic performance, and load-sensing hydraulics enable the machine to efficiently tackle a variety of tasks, from loading and carrying to full-depth trenching.
Delivering the power and productivity needed for high performance jobs, the backhoe loader can be equipped with up to a 1.05 cu m loader bucket offering a 7,012-kg tipping load at breakout point. Its standard 4.3-m-long standard excavator-style stick delivers a 4.7-m maximum digging depth and 4.03-m loading height.
Built on the rugged, field-proven driveline found on existing F2 Series machines, the new 426F2 delivers excellent production performance combined with the reliability customers expect from Caterpillar. The machine is powered by the 68.5 kW Cat 3054C 4-cylinder diesel engine with advanced cooling system designed for efficient and reliable operation in ambient temperatures reaching 50 deg C.
Its Cat four-speed Power-Shuttle transmission delivers effortless gear changes, up to 40 km/h road speeds and matched gear ratios for optimum performance in all applications.
With its enclosed rear axle design featuring a wet multi-plate braking system, the 426F2 backhoe loader delivers reliable operation even in the harshest conditions. Self-adjusting and oil immersed, the system boasts dual brake pedals for split braking in tight corners to increase maneuverability.
The 426F2's structures are based on the proven 428F2 design for maximum operating reliability in the field. The machine's parallel lift loader arms provide the operator with excellent forward visibility, exceptional breakout forces reaching 60.4 kN and class-leading lift capacity of 3,610 kg at full height. General Purpose (GP) or Multipurpose (MP) buckets are available to precisely match the customer's needs.
Fast cycle times and boom cushioning enable fast trenching. The machine delivers powerful dig forces of up to 57.2 kN. The 205-degree high-rotation bucket linkage ensures superior material retention and exceptional material removal from the trench. Its narrow 2.2-m-wide main frame with Side Shift ensures excellent maneuverability and performance in confined spaces.
Cat Product Link comes standard on the new 426F2 to maximise machine uptime availability by offering remote data monitoring through VisionLink. Customers can specify the amount of critical machine operating data gathered, such as fuel usage, payload summaries, scheduled service reminders and fault code alerts, to help improve machine management.
Customers can choose between 2- or 4-wheel drive, backhoe loader or excavator control pattern, cab climate control packages, and specified Product Link technology levels, among other options, to get the machine matched to their requirements.
More Stories