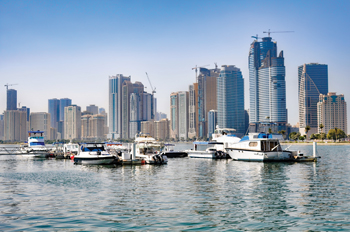 Ambitious goals
The Northern Emirates are showing impressive progress in terms of projects development, with hospitality, tourism, housing and infrastructure topping their list of priorities.
November 2017

Tourism and real estate development are key watchwords in the Northern Emirates, many of which boast a rugged, virtually pristine terrain that complements the glitzy appeal of their wealthy neighbours Dubai and Abu Dhabi – thus enabling the UAE to project itself as a total tourism package.

Particularly impressive over the past year have been the efforts of Ras Al Khaimah and Sharjah to broaden their appeal to tourists and residents seeking cost-efficient alternatives to their richer counterparts in the south. For instance, Ras Al Khaimah is set to open the UAE's highest observation deck close to the summit of Jebel Jais and the world's longest zip-lining facility, providing adventure seekers breathtaking views of the UAE's highest peak at 1,934 m above sea level.
In the real estate sector, rents are more affordable in the Northern Emirates and for those looking to buy property, the prices are lower and promise good returns on investment. A shot in the arm for the sector was the new property law in Sharjah which came into effect in 2014, under which expats with a valid UAE residence visa can now invest in residential property across the emirate. Sharjah has been home to many Dubai and Abu Dhabi workers due to its more affordable rent. With the lifting of restrictions on property investment, the emirate can now look forward to a new revenue stream as investors eye Sharjah for its strong growth potential and proximity to the two prosperous emirates.
Over the past year, there has been increasing interest in these emirates from developers in Dubai and Abu Dhabi. One example is the region's leading shopping mall and leisure pioneer Majid Al Futtaim, which has launched construction work on a Dh2.6-billion ($707 million) super-regional mall – City Centre Al Zahia in Sharjah and My City Centre Al Dhait in Ras Al Khaimah. It is also expanding the City Centres in Sharjah and Ajman.
In tandem with the real estate growth, the government is spearheading the development of infrastructure including roads, power and water desalination capacity and waste water schemes. Research firm BMI Research points out that while the overwhelming focus of infrastructure development in the UAE will remain centred on Dubai and Abu Dhabi, the smaller emirates will play an increasing role in driving growth as ambitious infrastructure investment agendas swell their respective project pipelines in the coming years.
Sharjah's 2017 budget has allocated a record amount of funding to infrastructure investment, with the government having pledged $6 billion for the year. This represents a seven per cent year-on-year increase and roughly 30 per cent of the overall budget, which will translate into greater levels of construction activity in 2018 and beyond, according to BMI's latest Middle East and Africa Infrastructure report.
Among the key road projects is the 42-km-long Mleiha Road Development in Sharjah which will extend to Fujairah. Other projects include the first phase of the road connecting Sheikh Khalifa Highway in Fujairah with the Khatm Melaha Centre and E99 Road, the Hamad bin Abdullah Road project in Fujairah, the intersection of the Al Badi Bridge in Sharjah, the second phase of the extension of the Al Emarat Suhaila-Al Shamal Road, and development of Al Ittihad Road, E11.
Ras Al Khaimah
Ras Al Khaimah has continued to outperform the wider UAE and regional tourism markets, according to real estate consultancy firm CBRE. According to its Ras Al Khaimah Market View report released earlier this year, the emirate's hospitality market soared last year recording a 10.9 per cent increase in full year visitor arrivals and a 9.8 per cent growth in the average occupancy rate, taking the annual occupancy to 71 per cent.
The growth of world-class facilities has boosted the tourism and hospitality industry in Ras Al Khaimah, which boasts a mountain-beach-desert offering. In line with these developments, the emirate is seeing increasing investment with its iconic manmade islands Al Marjan continuing to attract developers both from the UAE and abroad including China. The $1.8-billion Al Marjan Island consists of four artificial islands with 1,500 hotel rooms and more than 2,000 residential units.
Dubai's Emaar Properties made its foray into the emirate's real estate market at the end of last year when it signed up to develop two-million-sq-ft of mixed-use projects on Al Marjan. Another UAE-developer Fam Holding has become the latest to invest in the island, having acquired a 126,000-sq-ft plot to develop the 548-room Al Mahra Resort. Local developer MR Properties has also revealed plans for a new 500-key four-star beachfront property on Al Marjan Island, following the successful operation of the 723-room DoubleTree by Hilton on the island. Spread over an area of 10,886-sq-m, the 500-key beachfront development is valued at Dh400 million ($108.8 million) and is expected to open by the fourth quarter of 2019.
In addition, China-based Novel International Group has purchased 720,000 sq ft of land for a luxury mixed-use development on the man-made island. Other investors include Crowngate International, which intends to develop a new upscale resort valued at Dh220 million ($59.8 million).
Meanwhile, the InterContinental and RAK Properties have announced the revival of a 350-key resort property at the Mina Al Arab – a mega development with an estimated investment of Dh5 billion ($1.36 billion) over the next five years.
RAK Properties' Mina Al Arab development continues to evolve and expand its hotel offering. The developer launched enabling works early this year on the InterContinental Ras Al Khaimah Mina Al Arab Resort and the 306-room Anantara Mina Al Arab Ras Al Khaimah Resort.
Sharjah
Among the most prominent projects announced in recent years in Sharjah is Aljada, a Dh24-billion ($6.5 billion) master-planned community which is destined to be the largest mixed-use project in the emirate. It was launched in September by the newest entrants on the real estate market, Arada, following the successful launch of its 5-million-sq-ft Nasma Residences. Arada launched the second phase of Nasma Residences in June after unprecedented demand for the residential community resulted in the first phase selling out ahead of schedule.
Sharjah's real estate market has experienced strong growth in recent years, supported by increasing demand for mid- to high-end residential properties and changes to the emirate's property law which now allows expatriates living in the UAE to acquire property in approved zones. Consequently, freehold and leasehold sales of residential and commercial properties have been surging.
According to global credit rating agency Standard & Poor's, the emirate's real estate and business services sector accounts for about 22 per cent of GDP and is expected to experience accelerated growth through to 2020.
Sharjah registered a 23 per cent growth in the number of residential sales transactions during the first half of this year and rising demand has pushed villa rental prices up by 11.7 per cent during January to July, according to global property consultancy Cluttons. Factors fueling demand for Sharjah villas include significantly higher rental rates in some other emirates, increased availability of modern, high quality houses coming to market and the increasing number of freehold properties on the rental market.
New residential communities being built include the $2.5-billion Sharjah Waterfront City, $1.5-billion Al Zahia community, the $653-million Tilal City and the Nasma Residences. The Al Zahia mixed-use gated community development is set to grow further with the launch of its third neighbourhood by its owner Sharjah Holding. The new Al Lilac neighbourhood will be one of seven in Al Zahia and will consist of 120 residential units. About 2,270 homes are expected to be built in the master-planned development by 2022. The project is being developed by Majid Al Futtaim.
Another UAE-based developer Omran Properties has announced plans to launch three real estate projects worth a total Dh2.47-billion ($672 million) in Sharjah. The company was established last year through a partnership between Sharjah Investment and Development Authority (Shurooq), Dubai's Emaar Properties and Eagle Hills, an Abu Dhabi-based developer. The largest of the developments is Maryam Island, a Dh2.26-billion ($615 million) mixed-use development located between Al Khan Lagoon and Al Mamzar peninsula.
Among local developers, Alef Group has launched a Dh3-billion ($820 million) pedestrian-friendly residential development in the Al Juraina area. Described as Sharjah's first fully-walkable community and covering 3 million sq ft, Al Mamsha will offer a variety of modern apartments. Alef Group is currently preparing to open its first 'Zero 6' branded shopping mall in Al Juraina 2.
Another local developer Al Thuriah Properties has handed over its 33-storey Sahara Tower 4 to home owners. The 3.1-million sq-ft mixed-use Sahara Complex on Al Nahda Street, near the border with Dubai, will ultimately have six residential towers. Construction of Sahara Towers 1 to 5 is already completed and Sahara Tower 6 is scheduled for completion in December 2019.
Among the new malls coming up is Safari Mall, which put the emirate in the limelight by setting a new world record for the largest continuous concrete pour when its foundations were being laid.
Catering to the emirate's growing number of tourists, Jannah Hotels & Resorts intends to build a 57-storey luxury mixed-use development on Al Khan Lagoon in Sharjah, which, upon completion in 2020, will become Sharjah's tallest building. The upcoming Jannah Al Khan Hotel & Spa boasts world-class facilities as well as its own helipad. It will also house the largest royal suite in Sharjah complete with a private pool, and a sweeping terrace.
Ajman
Although developments have been slow in Ajman, the emirate – the first in the UAE to offer 100 per cent freehold to global investors – has seen a surge of investment in real estate, following the government's efforts to boost the sector.
In addition, the UAE federal government has been pushing ahead with housing schemes in the emirate. The Sheikh Zayed Housing Programme recently signed two contracts worth Dh1 billion ($272 million) for construction and maintenance of the Al Montazi Residential Complex, the largest of its kind in Ajman.
Among the prime real estate developments in Ajman is the Al Zorah Development, a joint venture between the government of Ajman and Solidere International. Covering an area of 5.43 million sq m, Al Zorah is a mixed-use coastal development including hotels and resorts, creekside, seaside and golf side residential communities, commercial space and leisure facilities.
The development saw the opening of the Oberoi Beach Resort, Al Zorah in April, as the first five-star beach resort in the emirate and the fifth five-star hotel.
Another key hotel project that is poised to open in Ajman by the end of this year is the Wyndham Garden, a 17-storey, four-star hotel with 179 rooms and suites.
Meanwhile, the UAE-based Sweet Homes delivered 350 villas in the first phase of its $750-million master-community development Ajman Uptown, the only freehold villa project in the emirate. Once fully completed, the master development will house 1,504 villas and townhouses, a hotel, hotel apartments, mall, hospital club, two mosques, and a school.
Umm Al Quwain
The smallest of the UAE emirates, Umm Al Quwain has its fair share of projects including the much-delayed Umm Al Quwain Marina – a joint venture between the government and Emaar Middle East – which has broken ground for the first phase of the project. The Dh12-billion ($3.3 billion) development is located by the scenic Khor Al Beidah natural lagoon.
The 2,000-acre development, which features 23 km of waterfront and 450 acres of navigable water, will also include town homes, boutique villas, retail outlets and recreational facilities.
Another key development is the Dh324-million ($88 million) Martyrs Neighbourhood Residential Complex, work on which is 48 per cent complete. The project, which is being developed on a 830,459-sq-m area, will feature 232 residential units along with other amenities. It is likely to be completed by the second quarter of 2018.
Plans have also been mooted for Firdous Sobha, an integrated resort and residential island development, launched by the Government of Umm Al Quwain and Sobha Group, a Dubai-based real estate developer.
Among other projects, the emirate is launching the second phase of its free trade zone facility, which will include a smart city. With the infrastructure masterplan already complete for Phase Two of the industrial area, Umm Al Quwain Free Trade Zone (UAQ FTZ) is looking to build a smart city where people will be able to 'walk to work'.
Once Phase Two comes to fruition, the free zone will function as an independent industrial city with amenities like a hospital, shopping centres, a school, a hotel and even an exhibition and convention centre.
Fujairah
The 'Fujairah 2040' plan will offer a wealth of contract opportunities in the infrastructure space, as the government seeks to accommodate a growing population that is expected to double by 2040 and lay the foundations for a more diversified economic base, says BMI Research.
As part of its investment agenda, Fujairah will seek to construct 8,000 new homes and 1,500 hotel rooms over the next five years, as well as expand the capacity of its seaport. In addition, the port of Fujairah is likely to continue to emerge as a key centre of oil storage infrastructure as investors look to capitalise on the emirates strategic location outside of the Strait of Hormuz.
Meanwhile, Eagle Hills is building The Address Fujairah Resort + Spa at Sharm in the emirate, which will offer five-star amenities and four residential buildings that include 170 branded apartments, five beach villas and five garden villas. The construction is well under way and is on track for completion in 2019.
Fujairah is also looking to start construction of the first phase of its ambitious smart logistics city project, which will be developed in three phases on a 68,000-sq-m area. Work on the initial phase will begin by the end of 2018. Other key projects under way include the $463-million Mohammed Bin Zayed City and the $108-million Fujairah Business Centre.
Conclusion
While the Northern Emirates are not likely to replicate the success enjoyed by Dubai and Abu Dhabi, they are nevertheless reaping the benefits of proximity to these more prosperous emirates by creating tourist destinations that can supplement their offerings and provide affordable and quality accommodation for residents.
More Stories