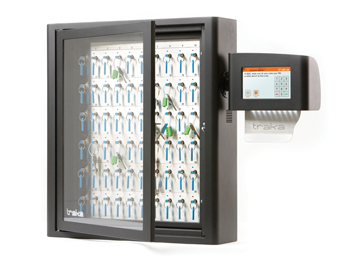 Access control systems boast high flexibility
November 2017
Universal Building Materials Merchants Company (UBM), Saudi Arabia's leading building materials specialist, has enhanced its product offering with the addition of wireless access control systems from Assa Abloy – some of which can integrate with almost any leading security system.
UBM recently added Assa Abloy, a total door openings solution provider, to its growing portfolio in line with its commitment to deliver the best products from around the globe to the kingdom's construction market.
In a survey conducted by the company to gain an insight into the trends in access control market, it found that 69 per cent of the respondents considered wireless locks to be a cost-effective alternative to wired access control.
Everything about wireless access control makes life easier for those who install or operate it, says a UBM spokesman. "It's easy to extend an existing third-party access control system by switching mechanical locking cylinders for the battery-powered, electronic, Aperio cylinders, for example."
"You can bring them into the existing control panel via communications hubs (online integration) or via update-on-card (offline). Compare that to the wholesale rewiring needed to add more wired mag locks!" he remarks.
He says swapping mechanical locks for electronic access control upgrades a door's security in an instant. Smart cards eliminate key management headaches, as well as security risks posed by any lost mechanical key – an all-too-common occurrence, and something that 86 per cent of the survey respondents are also concerned about.
Aperio wireless locks integrate with almost any leading security system, allowing facilities staff to bring access control much further into a site than would be possible with traditional access control.
"At i2 serviced offices around the UK, for example, Aperio locks have replaced the slow and expensive job of hardwiring every newly sublet office into i2's central access control system. Facility managers can now amend access rights remotely, instantly cancel lost keys or extend an existing access control system without disruptive structural alterations," the spokesman says.
Another Assa Abloy technology is Cliq, a wireless, mechatronic locking system based on patented, high-security cylinders, battery-powered, programmable keys and encrypted electronic communications. Its proven security credentials and the ability it gives in-house managers to issue contractors with programmable keys both assist workflow management in these complex organisations.
Interestingly, the spokesman says, the research also finds customers already considering wireless deployments beyond just doors.
"Well over half of the respondents judged electronic access control well suited to securing server racks, cabinets, lockers, safes, and machines, as well as padlocked outdoor structures. Flexibility makes wireless technology the natural solution. Interior doors, filing cabinets, carts and other deployments will increasingly use wireless electronic systems," he says.
Other innovative products from Assa Abloy include Traka, one of the world's first electronic key management systems. "With its patented iFob, Traka leads the way in key security and access management solutions. Its intelligent electronic key and equipment management features ensure essential assets are better protected, resulting in improved efficiency, reduced downtime, less damage, fewer losses, lower operating costs, and significantly less administration workload, plus greater transparency and accountability.
"Then there is also 'shine', the digital lock for glass doors which you can install without having to drill the door, so it's very easy to retrofit. Stylish design and battery operation make it ideal for small- to medium-sized business and offices, including for controlling access to management suites and meeting rooms. 'shine' is packed with features which meet most access control needs, as well as convenient installation and programming," the spokesman adds.
Code Handle from Assa Abloy is an electromechanical PIN-operated handle for interior doors. The door is opened by entering a four-, five- or six-digit code on the handle display. It locks automatically or by pressing just one button on the display. Where there's a need or desire to limit access to selected people, Code Handle offers simple and effective keyless locking.
Founded in 1979, UBM today has branches across Saudi Arabia with its head office at Riyadh. It is the leading supplier of quality door hardware, mechanical and architectural products to the construction industry in the kingdom. The company has a countrywide sales network through which it distributes world-class products from well-known brands like Zurn, Wilkins, Hunter Douglas, Nibco, Wilson Taylor, Bailey, S H W, Mandelli, Rocky Mountain, Baldwin, Raven and Spark.
More Stories