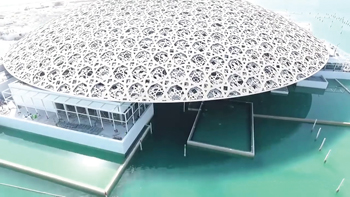 Louvre fame for Fila
Fila has protected the Louvre Abu Dhabi with water-repellent products that also help preserve the natural beauty of the external pool's surface.
November 2017
FILA, acclaimed globally for its surface protection systems, has added the Louvre Abu Dhabi museum, which is set to officially open in Abu Dhabi, UAE, this month (November), to its enviable portfolio of projects.
"The Louvre was very challenging in terms of technical requirements," Fabrizio Nicoli, commercial director of Fila Middle East, tells Gulf Construction. "We had to provide a water-repellent protection for the external sea pool of the museum that would both maintain the natural look of the surface inside the pool and be a perfect waterproofing protection in a particularly complicated setting as the pool is filled with warm flowing salty water."
"After a series of tests, our product was selected over all of our competitors as it was the best performing one in these conditions," he adds.
Fila supplied its Hydrorep and FILAMP90 Eco Plus for this project.
Fila's products are being supplied to several key projects as well as contracting companies, facilities management companies and stone installers in the region.
According to Nicoli, Fila's most critical and challenging project in the region has been the New Presidential Palace in Abu Dhabi due to its scale and importance. The interior and exterior protection provided had to perform for a very long period in a very harsh environment – since the palace is very close to the sea and the levels of humidity are very high, he adds.
"We were very proud to have our products chosen in all three phases of the project," Nicoli remarks.
For this project, Fila supplied FILAPW10 sealant and Hydrorep.
In both the Louvre and the New Presidential Palace, the company's products were chosen because they maintain the natural beauty of the surface (in both exterior and interior areas) and they provide the longest performance in the particularly difficult conditions of each project, Nicoli says.
Furthermore, he says Fila provides constant support for projects during all phases, and particularly during the application phase as proper application is critical for optimum protection. Also important is the technical support it provides.
The FILAPW10 sealant and Hydrorep Eco water-repellent are two of the key waterproofing solutions Fila offers in the Middle East.
"In terms of waterproofing back sealers, FILAPW10 is our best-selling volatile organic compound (VOC)-free efflorescence-blocking sealant. It not only provides protection from water from the back, it also stops contaminants from rising up from the substrate to the material surface, thus preventing the formation of streaks or stains from salts, tannin, oxides, and more," says Nicoli.
"One of its key characteristics is that it leaves the stone breathable, which is essential for the long-term beauty of the surface. Other products may block water but might allow the minerals and salts from entering the surface – resulting in irremediable damage. What's more, FILAPW10, apart from blocking water and stopping minerals and salts, does not alter the bonding of the stone."
Turning to waterproofing top sealers, he says Hydrorep Eco is Fila's latest water-based innovation. An eco-friendly natural-effect 'water-repellent' for indoor and outdoor surfaces, for stone, concrete, terracotta, fair-faced brick, quarry tiles, plaster and masonry paint, it protects against deterioration caused by damp, creating an anti-mould barrier.
Hydrorep Eco is certified by tests carried out in compliance with the UNI EN ISO 846: 1999 method. It penetrates deep down into the material without forming a surface film, thus protecting the natural look of the surface. It is ultraviolet (UV)-resistant and does not alter the glossy and the friction value of the surface. It is an eco-friendly treatment, free from hydrocarbon solvents and with very low VOC emissions and, therefore, helps toward achieving Leed (Leadership in Energy and Environmental Design) credits. It is GEV-certified and has EC1 Plus marking. It, therefore, complies with the green building requirements of the region like the Estidama in Abu Dhabi or the Dubai Green Building Regulations, Nicoli points out.
Meanwhile, Fila has just launched an innovation that was long-awaited in the market, he says. Filamarble Aid is a brand new acid-resistant protective treatment for marble and natural stone worktops. It provides high acid resistance for delicate surfaces subject to daily wear and tear, such as tables and areas that are frequently in contact with food or acidic substances.
"Its technical properties also mean that it is very safe and suitable for contact with foodstuff. As it is resistant to UV rays and thermal shocks, it can be used on both new and pre-treated materials, including outdoor surfaces. It does not discolour or go yellow with age or sun exposure; and gives the treated surface a highly polished finish, improving on the gloss of untreated materials. This means marble can now be used in kitchens without worrying about its long-term look as it will be perfectly protected," he says.
Filamarble Aid's international launch took place this September in Verona, Italy.
Fila also offers a high standard of technical support for its products. "We not only offer a warranty in terms of the performance of the product, but also laboratory tests along with qualitative and quantitative test reports for each surface that needs to be treated in order to offer the best chemical solutions for premium protection," he concludes.
Among future plans, Fila intends to further expand its services to South Pacific Asia from its Dubai office, and to consolidate its brand in the Middle East.
More Stories