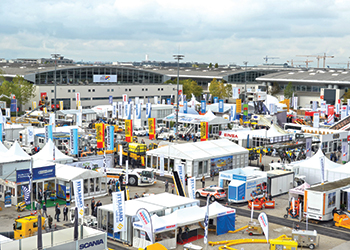 Digitalisation focus of key expo
July 2017
Digitalisation and automation will be the prime focus at a leading biennial trade fair for the airports sector as increasing passenger traffic pushes demand for the latest cutting-edge technology.
Some 540 exhibitors from 39 countries have secured more than 30,200 sq m of floor space at inter airport Europe 2017, the 21st international exhibition for airport equipment, technology, design and services to be held from October 10 to 13 at the Munich Trade Fair Centre in Germany.
"Airport operators seeking the latest equipment and tailor-made solutions for ground handling, terminal operations, airport IT and airport design visit inter airport Europe in Munich every two years to source the latest technology first hand," says a spokesman for Mack Brooks Exhibitions, the organiser.
Visitors to the show are industry experts from airports, airlines, air cargo carriers and aviation-support.
Inter airport Europe will comprise four exhibition categories that cover all areas of airport-related technology and services: interRamp (ground support equipment), interTerminal (technical terminal installations and services), interData (specialised hardware and software) and interDesign (architecture and furnishings).
Live demonstrations of new products and innovations are a key feature of inter airport Europe.
"The airport industry is currently experiencing promising growth," says Nicola Hamann, managing director of Mack Brooks Exhibitions. "Due to increasing passenger traffic at airports, there is a rising demand for efficient security and passenger guidance systems and cutting-edge ground support equipment."
Surging passenger numbers also means that it is vital to ensure the highest level of efficiency at airports and data exchange across these facilities.
Hamann points out that the current demand for space at the exhibition reflects this positive development in the airport industry – an industry sector which is currently influenced by prevailing trends towards digitalisation and automation.
According to Hamann, in recent years, digitalisation at airports has gained further importance, not only to increase capacity levels but also to facilitate the passenger experience and the flow of passenger traffic.
"The implementation of this new trend, the contactless passenger journey, involves innovative technology, as well as hardware and latest equipment. In addition, mobile applications, cloud-based systems and the Internet of Things (IoT) solutions are introduced to optimise maintenance operations, cargo management and various other terminal and airfield operations," she adds.
As the world's leading airport exhibition, inter airport Europe 2017 will focus on the rising demand for digitalisation and automation systems which is opening ample business opportunities for the airport industry and is raising the bar for efficiency and improved passenger experience in the future.
The event will take place in halls A5, A6 and B6 as well as the spacious outdoor area at the Munich Trade Fair Centre. A direct shuttle bus service will be running between the exhibition centre and the international airport for the duration of the show.
Tickets will be available on the show website via the online ticket shop from September 2017. Alternatively, tickets can be purchased on-site during all four exhibition days. A day ticket costs €40 when purchased online, €50 when bought on-site; a season ticket costs €60 online and €70 on-site.
More Stories